inFOCUS is an innovative veterinary journal watch that keeps practitioners up-to-date with the latest research papers, articles, systematic reviews, guidelines, and more that have the potential to positively impact patient care.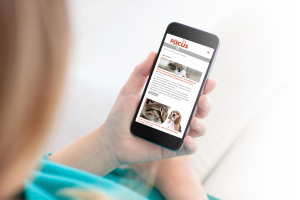 By subscribing to the free inFOCUS service – emailed six times per year – you can save time and stay informed about the latest published developments in the veterinary profession. Through a series of summaries, inFOCUS will highlight key findings, explore limitations and give you the relevant take-home messages.
You can choose to read full articles that are of most interest by following the links in each summary, and you can search the inFOCUS website if you want to go back and examine previous summaries. Plus, reading and reflecting on summaries and original material counts towards your CPD.
inFOCUS is an editorially independent veterinary journal watch produced by RCVS Knowledge's Library & Information Services team, who watch the content of over 100 veterinary journals and other key sources to compile a shortlist of the most important articles for each bi-monthly email.
Articles are assessed by our Clinical Review Team who score them against set criteria relating to relevance, quality and interest to the veterinary practitioner. The top-scoring articles are then reviewed and summarised with helpful commentary, and sent directly to you to help improve the quality of care you deliver.
Subscribe to get every edition of inFOCUS sent directly to your inbox.
You can find out more about how we highlight the best articles by reading our Editorial Policy and Process.
If you are an equine or farm specialist who is interested in joining the Clinical Review Team we would love to hear from you!
read more...
An RCVS-recognised Specialist in Cattle Health and Production, Owen established Dairy Veterinary Consultancy Ltd., providing strategic health advice and tailor-made training to ruminant and dairy agri-businesses, vet practices and primary dairy producers.
Owen was awarded the RCVS Diploma in Cattle Health and Production in 2013 and is a CowSignals® master trainer and a Nuffield Scholar.
He has particular professional interests in bovine lameness, youngstock management, building design, rumen health (nutrition), herd fertility, transition cow management and the responsible use of veterinary medicines.
Dr Emi Barker
BSc BVSc PhD DipECVIM-CA MRCVS
Emi is an RCVS-recognised Specialist in Small Animal Internal Medicine, with research interests in companion animal systemic bacterial and viral infections.
read more...
She is also an active researcher in the use of molecular diagnostics to investigate and diagnose disease, following on from her doctoral research project on companion animal haemotropic mycoplasma infection and post-doctoral research on feline coronavirus molecular epidemiology.
Currently, Emi is a referral clinician at Bristol Veterinary School, with postgraduate supervision and undergraduate teaching responsibilities.
Mr Julien Bazelle
DipECVIM-CA MRCVS
Julien graduated from the University of Nantes in France in 2005, teaching students at the University for two more years as an intern and an assistant.
read more...
After three years as a first-opinion practitioner in France, Julien moved to the United Kingdom, where he completed a residency in Small Animal Internal Medicine at Cambridge University, obtaining his diploma in April 2015.
Julien worked at Willows Veterinary Specialists from 2013 to 2015 and has been one of the clinicians in the internal medicine department at Davies Veterinary Specialists since August 2015.
He has many interests in internal medicine but is particularly keen on Uro-Nephrology, Gastroenterology and pancreatic diseases.
Dr Valentina Busin
DVM, PhD, DipECSRHM, MRCVS
Valentina graduated from the University of Turin in 2007 and worked in mixed and farm animal practices for three years, before completing a farm animal residency programme conducted jointly between the University of Glasgow, the Royal (Dick) School of Veterinary Studies and the Clyde Veterinary Group.
read more...
In 2014 she obtained the Diploma for the European College of Small Ruminant Health Management and recently completed a PhD program at the Moredun Research Institute and Heriot-Watt University on point-of-care diagnostics for veterinary related diseases.
Since September 2016 she has been a University Clinician in Disease Investigation, a collaborative post between the Division of Pathology and the Division of Production Animal Clinical Sciences at the University of Glasgow.
read more...
Her first job was a year-long equine internship in Ireland, before a stint working for an equine ambulatory practice.
She followed this by gaining equine reproduction experience with a stud season, which took her to Argentina before a return to Britain at the Beaufort Embryo Transfer Centre.
After that, Aoife worked at Rowe Equine – and its incorporated Equine Eye Clinic – and eventually at Chapelfield Veterinary Partnership's purpose built Equine Clinic in Brooke.
Felicity (Flick) Caldwell
BSc(hons) CVN ECC, DipHECVN, DipAVN (Small Animal), RVN
read more...
Flick has experience working in specialist referral & multi-disciplinary referral hospitals as an Advanced Referral Nurse within ECC, Surgery and Anaesthesia. She is a lecturer in animal health, anatomical & biosciences; Flick is an experienced lecturer & mentor in veterinary education.
Mr John Chitty
BVetMed CertZooMed CBiol MSB MRCVS
John qualified from the Royal Veterinary College in 1990 and gained his RCVS Certificate in Zoological Medicine in 2000. He is an RCVS Advanced Practitioner in Zoological Medicine.
read more...
Co-director of a small animal and exotics practice in Andover, Hampshire, John has a one hundred percent avian, exotics and small mammal caseload – both referral and first opinion. He acts as consultant to seven zoological collections, a commercial laboratory and the Great Bustard Reintroduction project.
John is co-editor of two texts on avian medicine, one on rabbit surgery and is co-author of a textbook on tortoise medicine. He has also authored various book chapters and papers on a range of species.
John serves as Vice-President of the European Association of Avian Veterinarians, and is on the editorial board of the Journal of Exotic Pet Medicine. He was President of the British Small Animal Veterinary Association 2017-18.
Elizabeth Cole
BVetMed PGCertSAM MRCVS
Elizabeth graduated from the Royal Veterinary College in 2011.
read more...
She has worked in small animal general practice since graduation, initially within London, before moving to Portsmouth.
She completed her postgraduate certificate in small animal medicine in 2017 and has developed a keen interest in gastrointestinal disease, and feline idiopathic cystitis.
Mr Graham Duncanson
BVSc MSc(VetGP) DProf FRCVS
Graham is a sheep farmer's son who qualified as a veterinary surgeon from Bristol in 1966.
read more...
He spent eight years as a Government Veterinary Officer working in all districts of Kenya, returning to the UK to work in general practice in Norfolk in 1975, and then moving to Green Counties Vets as a consultant.
Having obtained an MSc in Veterinary General Practice in 2004, Graham further advanced his learning with a Doctorate in 2008 and the completion of a Fellowship in 2011.
He has written five veterinary textbooks and edited several others.
Dr Sally Everitt – Chair of Clinical Review Team
BVSc MSc(VetGP) PhD MRCVS
Sally qualified from Bristol University in 1981 and has spent most of her working life in small animal practice, taking a particular interest in internal medicine and preventative healthcare.
read more...
Throughout her time in practice, she developed an interest in how the context in which we work affects the delivery of care to individual patients. This led her to undertake a Master's in Advanced Veterinary General Practice from the University of Middlesex in 2007and a PhD into the factors affecting clinical decision-making in the veterinary consultation at the University of Nottingham in 2011.
From September 2011 to April 2017 Sally worked as Head of Scientific Policy for the British Small Animal Veterinary Association, providing support to the BSAVA Officers, volunteers, staff and members on a wide range of scientific and policy issues.
She has now returned to practice on a part-time basis to allow time for writing and research.
Chloe Fay
Bsc(Hons) RVN CertVN ECC
Chloe qualified in 2010 after training in a predominantly Emergency and Critical Care (ECC) and referral-based hospital.
read more...
She has continued to expand her knowledge and skills through working only in ECC and referral practices, alongside certificate holders and diplomats, for the last seven years.
Cementing her enthusiasm for ECC, she completed the Cert VN ECC in 2016 and is working toward her Veterinary Technician Specialist (ECC) this year.
Sandra Fletcher
BSc (hons) PGCE DipAVN (surgical) RVN
Sandra qualified in 1998 after training in a hospital practice in Bristol. After a brief time travelling and locuming in Australia, Sandra commenced working in a multi-disciplinary referral centre for six years. Whilst there, she completed the surgical diploma, achieving the BVNA DAVN Award for the highest marks in 2003. This was quickly followed by the top up degree in Veterinary Nursing in 2006.
read more...
Sandra subsequently went on to teach both the Level 3 diploma, BSc and FdSc in Veterinary Nursing, achieving the Post Graduate Certificate in Education in 2015.
Following a return to clinical nursing, Sandra is due to complete the Certificate in Veterinary Nursing Emergency and Critical Care in September.
Miss Yaiza Gómez-Mejías
MANZCVS(Medicine of Cats) MRCVS
Yaiza graduated from the University of Las Palmas de Gran Canaria in 2002, before completing the GPCert in Feline Practice from the European School of Postgraduate Veterinary Studies in 2010.
read more...
In 2012 she studied at the University of Sydney's Centre for Veterinary Education, and took the Australian and New Zealand College of Veterinary Scientists Medicine of Cats Qualification in August 2016.
Currently working as a locum vet in Manchester, Yaiza has worked in first opinion practices in Spain, Germany and the UK.
Mr Shailen Jasani
MA VetMB DipACVECC MRCVS
Shailen is a Veterinary Emergency and Critical Care (ECC) specialist with extensive experience in both primary care and referral environments.
read more...
He is the founder of The Ralph, a multidisciplinary small animal specialist referral centre in the south east of England, and also of The Ralph Site, a non-profit pet bereavement support online resource. Please use the links below to find out more.
read more...
She is currently in her final year of a residency in equine internal medicine at the Royal Veterinary College.
Her specialisms include endocrinology, ophthalmology and neurology.
Dr Mark Little
MVB CertDHH PhD MRCVS
Mark qualified in Veterinary Medicine from University College Dublin (UCD) in 2002 and spent ten years in large animal practice in Northern Ireland.
read more...
During this time he focused on herd health investigations, completing the Postgraduate Certificate in Dairy Herd Health from UCD.
He then took a technical role in the pharmaceutical industry before moving to the Agri-Food and Biosciences Institute in Hillsborough. While there, he completed a PhD on the nutritional impacts on immunity in the transition dairy cow with Queens University Belfast, publishing papers in the Journal of Diary Science.
Mark works for Fane Valley, a farmer owned Co-op in Northern Ireland where he leads the veterinary services department, delivering farmers complete health and nutritional advice.
Mark also serves on the Animal Health Ireland, Calf-Care Technical Working Group and is currently secretary of the BVA Northern Ireland branch.
read more...
During her time at Battersea, where her interests were Small Animal Surgery and Infection Control. As a staff clinician at the Beaumont Sainsbury Animal Hospital, the Royal Veterinary College's first opinion teaching hospital, Louisa developed an interest in the evidence base of teaching and acquiring surgical skills.
Louisa is an associate fellow of the Higher Education Academy (AdvanceHE). In early 2019, she moved to France with her family and, after year in practice there, she is currently setting up as a Freelance Medical Writer.
read more...
She gained a postgraduate certificate in small animal internal medicine in 2014 and has a keen interest in clinical pathology and dentistry.
Currently a locum veterinary surgeon, Natalie divides her time between three practices in London – a feline-only practice, a busy small animal practice and a university hospital.
read more...
She completed her certificate in advanced veterinary practice in 2016.
Laura's main interests are equine dentistry, nutrition and care of elderly horses.
Dr Sue Paterson
MA VetMB DVD DipECVD FRCVS
Sue is recognised by the Royal College of Veterinary Surgeons and by the European College of Veterinary Dermatology as a specialist in Veterinary Dermatology.
read more...
She has recently been elected as a Fellow of the RCVS for her contributions to clinical practice in the field of Veterinary Dermatology.
Sue has written seven textbooks. Skin Diseases of the Dog (1998) and Skin Diseases of the Cat (1999) have sold worldwide and been translated into a number of languages, including German, Spanish, Chinese and Russian. Her third textbook, Medical Management of Otitis Externa, was published in 2005, followed by Skin Diseases of Exotic Pets in 2006. An illustrated atlas of ear disease of the cat and dog was published in 2012, while most recently she published Otitis Externa: An Essential Guide to Diagnosis and Treatment with her co-author Richard Harvey.
Sue has lectured extensively, including at the North American Veterinary Community Conference and the national meeting of the BSAVA. She is a regular speaker at the Annual BSAVA Congress and a consistent contributor to the Annual European Dermatology Congresses.
Sue is a member of the RCVS Council, is Junior Vice President of BSAVA and Senior Vice President of the European Society of Veterinary Dermatology.
Dr Nina Rzechorzek
BSc MA VetMB PhD MRCVS
After graduating in Physiology (University of Edinburgh 2005) and Veterinary Medicine (University of Cambridge 2010), Nina worked in primary companion animal practice in Warwickshire before returning to Edinburgh as a Wellcome Trust Integrated Veterinary Training Fellow.
read more...
After completing a PhD on hypothermic preconditioning in human stem cell-derived neurons (2015), Nina trained in Neurology and Neurosurgery working predominantly with dogs and cats, but also horses and farm animal species.  She is now based at the MRC Laboratory of Molecular Biology, Cambridge, and was awarded an MRC Clinician Scientist Fellowship in 2019 to explore how brain temperature interacts with the neural molecular clock.
Nina has a keen interest in comparative neurology and is an avid supporter of evidence-based veterinary medicine, One Health, and open access publishing platforms.
read more...
She has completed a master's degree in Veterinary Epidemiology and has undertaken a PhD on Cushing's syndrome at the RVC. Imogen now works as a veterinary statistician and epidemiologist at CVS.
read more...
She completed a large animal surgery residency at the University of Georgia in 2009 and a large animal diagnostic imaging residency at Bell Equine and the RVC in 2015, combining master's programmes with both residencies.
Ceri now works in clinical practice at Bell Equine as an RCVS-recognised specialist in equine surgery and large animal diagnostic imaging.
Helen Silver-MacMahon
PGCert PS&CHF, Cert VNECC, DipAVN (Surgical), Cert SAN, RVN
Helen is a senior veterinary nurse and Chair of the Infection Control Group at the Animal Health Trust and lectures veterinary nursing at the College of West Anglia.
read more...
She is currently studying for a Masters in Patient Safety and Clinical Human Factors and her interests include quality improvement, patient safety, education, and all aspects of surgical nursing and emergency and critical care.
Dr Christopher (Kit) Sturgess
MA VetMB PhD CertVR DSAM CertVC FRCVS
After graduating from Cambridge University in 1986 Kit worked for six years in primary care practice gaining mixed, equine and small animal experience.
read more...
Kit then returned to academia to undertake a PhD looking at the effects of FIV on mucosal immune function before taking up a lectureship at RVC and then Bristol University.
Since 2003 Kit has been working as an internist in private referral practice. He has further professional qualifications in imaging, cardiology and internal medicine, as well as being a recognised specialist in small animal medicine by the Royal College of Veterinary Surgeons.