SARS-CoV-2 neutralizing serum antibodies in cats: a serological investigation
Published 20 April 2020 | updated 25 November 2020
This paper has now been published as follows
Zhang, Q. et al. (2020) A serological survey of SARS-CoV-2 in cat in Wuhan. Emerging Microbes & Infections, 9 (1), pp. 2013-2019 https://doi.org/10.1080/22221751.2020.1817796
This paper reports on the serological prevalence of SARS-CoV-2 in a sample of cats in Wuhan, China.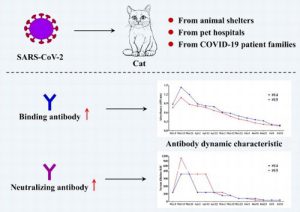 In this study, 39 banked sera collected from cats before the outbreak (March to May 2019) and 102 samples collected from cats in animal shelters and veterinary clinics in Wuhan from January to March 2020 (i.e. during the COVID-19 outbreak) were screened by indirect enzyme linked immunosorbent assay (ELISA) for antibody reactivity against recombinant RBD of SARS-CoV-2 spike protein.
15 (14.7%) of the samples collected from January to March 2020 were positive for RBD-based ELISA and 11 of these then showed neutralizing antibodies against SARS-CoV-2 when tested by virus neutralization tests. The cats with the highest titres belonged to people with confirmed COVID-19. While it may not be surprising that cats in contact with owners infected with COVID-19 can become infected, it is interesting that a number of other cats also mounted some degree of immune response.
It was also noted that both type I and II feline infectious peritonitis virus (FIPV) hyperimmune sera showed no cross-reactivity withSARS-CoV-2 RBD protein.
In addition, the researchers continuously monitored serum antibody dynamics of two positive cats every 10 days over 130 days. The authors reported that serum antibodies reached the peak at 10 days after first sampling and declined to the limit of detection within 110 days.
While this study provides some preliminary evidence that cats can become infected, and mount an immune response raising an antibody response to SARS-CoV-2, it did not give any information on whether the cats are able to pass on the virus.

Image reproduced under Creative Commons CC BY license from A serological survey of SARS-CoV-2 in cat in Wuhan. Emerging Microbes & Infections, 9 (1), p 2013
Reference for pre print:
Zhang, Q. et al. (2020) SARS-CoV-2 neutralizing serum antibodies in cats: a serological investigation bioRxiv https://doi.org/10.1101/2020.04.01.021196
0
0
Myai Du
Myai Du
2020-04-20 10:29:03
2021-08-02 14:34:09
SARS-CoV-2 neutralizing serum antibodies in cats: a serological investigation