Comparison of environment quality measurements between 3 types of calf housing in the United Kingdom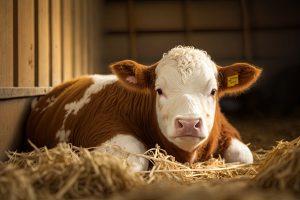 Author(s):
Mahendran, Sophie A., Blackie, Wathes, D. Claire and Booth, Richard E.
Published in:
Date:
February 2023
DOI:
Type of access:
Mahendran, S.A. et al (2023) Comparison of environment quality measurements between 3 types of calf housing in the United Kingdom. Journal of Dairy Science, 106 (4), pp. 2461-2474
The aim of this cross-sectional observational study was to measure and compare the levels of multiple environmental parameters in three types of calf housing commonly used in UK commercial dairy farms.
The study used a convenience sample of 10 dairy farms from the South of England and assessed the effect of housing type (shed, polytunnel or hutches) on a range of environmental parameters over two 8-week periods – the summer season (June-July 2021) and winter season (January-March 2022). Calves were housed in individual outdoor hutches on four farms, in individual pens in sheds on five farm and group pens in a polytunnel on one farm. All pens had straw bedding and pens in the sheds and polytunnel were separated by gates or solid walls. Three pens or hutches from each farm were observed during the study.
On each farm a data logger measured the temperature and relative humidity in a pen or hutch located in the centre of the housing area, while another data logger was situated outside in shade to record representative environmental temperature and humidity. Readings were taken every ten minutes throughout the two study periods which were then used to calculate the temperature-humidity index (THI).
Readings were also taken from three selected pens or hutches, positioned in the middle and at each end of the housing area, and external to the calf housing area on each farm on one day/week over both seasons. These measured light level, ammonia level, air speed and particulate matter (PM) levels in the air. On weeks 2, 5 and 8 of each season, the concentration of airborne bacteria was determined from air samples from the same selected pens or hutches on each farm.
Results from the study indicate calves were routinely exposed to both heat and cold stress. Using a THI threshold of ≥72, calves were exposed to heat stress in the summer season on 39, 31, and 14 of 46 days in polytunnels, hutches and sheds respectively. The maximum summer temperature of 37.0°C was recorded in both the hutches and polytunnel. During the winter the lowest internal temperature of −4.5°C was recorded in hutches, with hutches remaining at ≤ 10°C for 86% of the winter study period. Both sheds and polytunnel provided an increased temperature when compared to the external environment.
Calves housed in sheds were exposed to the highest levels of PM, followed by hutches and the polytunnel. The findings for concentration of airborne bacteria in the housing areas followed the same pattern, with Staphylococcus spp. being the most prevalent bacteria species identified.
Limitations of the study are the small number of included farms and that they came from a limited geographical location, that only one farm used a polytunnel compared to multiple farms that used sheds and hutches, and that potential confounding factors were not discussed.
This study demonstrates that there are fluctuations in multiple environmental parameters within different calf housing types which could have an impact on the health and welfare of calves. Data loggers are a cost effective, practical and useful way for farms to assess these fluctuations and help inform decision making at farm level to improve the environmental conditions for calf rearing.
The following may also be of interest:
Curtis, G. et al. (2018) The impact of early life nutrition and housing on growth and reproduction in dairy cattle. PLOS ONE 13(2): e0191687. https://doi.org/10.1371/journal.pone.0191687
An inFOCUS summary of this article is available
Claiming CPD for reading inFOCUS articles
Reading and reflecting on articles can count towards your CPD, and we have a template to help you with the process.
We encourage discussion on all material highlighted in each edition of inFOCUS. Use the button below to join the conversation on Twitter and include your comment in the feed for this issue.
Twitter feed is not available at the moment.
https://infocus.rcvsknowledge.org/wp-content/uploads/2023/04/Calf.jpg
1672
2508
Myai Du
Myai Du
2023-04-23 14:32:42
2023-04-24 09:31:33
Comparison of environment quality measurements between 3 types of calf housing in the United Kingdom