Broadening the veterinary consultation: Dog owners want to talk about more than physical health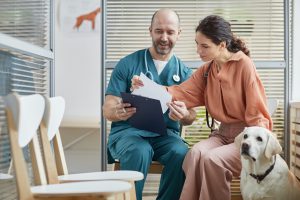 Author(s):
Hale, H., Blackwell, E., Roberts, C., Roe, E. and Mullan, S.
Published in:
Date:
January 2023
DOI:
Type of access:
Hale, H., Blackwell, E., Roberts, C., Roe, E. and Mullan, S. (2023) Broadening the veterinary consultation: Dog owners want to talk about more than physical health. Animals, 13 (3), no. 392
The aim of this mixed methods study was to investigate dogs owners' experience and attitudes towards discussing topics relating to canine health and well-being with a veterinary professional, whether they had experienced the use of a formal assessment tool and if so whether they found the experience useful.
The online survey, which ran for six weeks in May and June 2021, recruited participants via dog-related social media channels.  The survey consisted of 20 questions which collected basic demographic data, whether respondents worked in an animal or dog related profession and information on 17 topics relating to the dog's physical and emotional health and well-being. The participants were then asked whether a veterinary professional had ever discussed these topics with them, how comfortable they would be having such conversations, and when and how such discussions should take place. Respondents were also asked if their vet or vet nurse had ever used a questionnaire to guide any conversation about their dog's health and if so, how useful they found this.
Semi-structured interviews then took place with four participants in the survey who reported they had completed a questionnaire about their dog's health or well-being with their vet. The interview questions were based on the survey results as well as findings from a previous study and covered the owners experience of discussing quality of life (QOL) with their vet.
A total of 410 owners completed the survey. The most discussed topics reported by owners were preventative medicine, body weight, specific health problems, neutering, diet/nutrition, and general welfare. Euthanasia was the topic that owners were least comfortable discussing. 95.8% of owners said they would be comfortable discussing QOL issues, with 32% reporting such a discussion had taken place. Whilst 70.8% of owners expressed an interest in assessment tools only 4.4% had completed one.
The findings from the semi-structured interviews suggested that owners would like to discuss QOL issues as part of the veterinary consultation, are interested in using QOL tools to enhance the conversation and feel that these broader conversations can boost their confidence and enhance the vet-client relationship.
Limitations of the study are the small number of participants in the interview population, possible selection bias in the survey respondents and recall bias due to the retrospective nature of the study.
Claiming CPD for reading inFOCUS articles
Reading and reflecting on articles can count towards your CPD, and we have a template to help you with the process.
We encourage discussion on all material highlighted in each edition of inFOCUS. Use the button below to join the conversation on Twitter and include your comment in the feed for this issue.
Twitter feed is not available at the moment.
https://infocus.rcvsknowledge.org/wp-content/uploads/2023/04/vet-talking-to-dog-owner.jpg
1672
2508
Myai Du
Myai Du
2023-04-23 14:28:00
2023-04-24 16:05:53
Broadening the veterinary consultation: Dog owners want to talk about more than physical health