Impact of research on contagious ovine digital dermatitis on the knowledge and practices of UK sheep farmers and veterinarians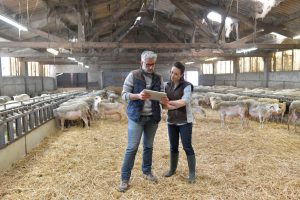 Author(s):
J.S. Duncan, J.W. Angell, D. Grove-White, T.R. Walsh, N. Seechurn, S. Carter and N. Evans
Published in:
Date:
June 2021
DOI:
Type of access:
Duncan, J.S. et al. (2021) Impact of research on contagious ovine digital dermatitis on the knowledge and practices of UK sheep farmers and Veterinarians. Veterinary Record.
The aim of this observational survey-based study was to identify the impact of the dissemination of research findings from a previous study on the knowledge and practices of sheep farmers and veterinary surgeons in their management of contagious ovine digital dermatitis (CODD) and to identify any future research needs.
There were two electronic surveys; one aimed at farmers and the other at veterinary surgeons. The farmer survey was distributed to UK sheep farmers via national associations and social media in May-July 2020. This survey consisted of 14 questions, including nine which asked about current practices and knowledge on the diagnosis, prevalence, treatment, and prevention of CODD, and two questions on changes in practice following the dissemination of the recent information and advice on CODD.
The second survey was distributed to UK veterinary surgeons who treat sheep, via the Sheep Veterinary Society and social media in July and August 2019. This survey consisted of seven questions, five addressing knowledge of, and practices on, the diagnosis, epidemiology, and management of CODD following the recent research, an open question on future research needs and one question asking for general comments on CODD research.
There were 361 responses to the survey, 284 from farmers and 77 from vets. 93% of farmers reported that they had some form of biosecurity measures in place to prevent CODD from entering their farm, 43% that they were following the current CODD-specific advice to examine the feet of all new sheep before letting them on the farm and 75% said that they were isolating new sheep on arrival on the farm. In response to the question regarding improvement in the management of CODD following recent guidance, 52% of farmers agreed that their management had been improved, key areas that had been impacted were biosecurity measures, choice of antibiotic and use of the foot rot vaccine Footvax (MSD).
Overall, 70% of veterinary surgeons stated that their advice on the management of CODD had improved. Advice on antibiotic use had changed, with 45% of vets decreasing their use of whole flock antibiotic treatments and 57% recommending reduced use of antibiotic footbaths. 58% had increased their prescribing of Footvax (MSD) for CODD prevention and 63% had changed their advice on biosecurity measures for CODD.
Both farmers and vets identified the priority areas for research as therapeutics, vaccine development and understanding of disease transmission.
Limitations of the study include the potential selection bias in the survey population, which mean that the findings may not be generalisable to the entire population of sheep farmers and vets in the UK.
The surveys show a strong uptake of the recent evidence-based guidance by both farmers and vets in their management of CODD – particularly in the areas of biosecurity and antibiotic use. Further research on the identified priorities is recommended.
We encourage discussion on all material highlighted in each edition of inFOCUS. Use the button below to join the conversation on Twitter and include your comment in the feed for this issue.
Twitter feed is not available at the moment.
https://infocus.rcvsknowledge.org/wp-content/uploads/2021/10/Sheep-and-vet-and-farmer.jpg
565
848
Myai Du
Myai Du
2021-10-20 08:38:15
2021-10-20 11:07:05
Impact of research on contagious ovine digital dermatitis on the knowledge and practices of UK sheep farmers and veterinarians