Outcomes of nine cats with urinary retention after sacrocaudal luxation managed with long-term urinary diversion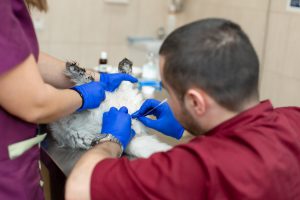 Author(s):
M. Garcia, C. Dumartinet, F. Bernard and A. Bernardé
Published in:
Date:
August 2021
DOI:
Type of access:
Requires membership/payment
This article can be accessed via RCVS Knowledge Library Membership (click here).
Garcia, M. et al (2021) Outcomes of nine cats with urinary retention after sacrocaudal luxation managed with long-term urinary diversion. Veterinary Surgery.
The aim of this retrospective case series was to document the outcomes of cats with urinary retention following sacrocaudal luxation managed by long-term cystostomy. The study was carried out at the 'contributing institution', which is taken to be the authors' workplace, the Centre Hospitalier Vétérinaire St Martin in France.
The medical records of cats treated by long-term cystostomy (LTC) for urinary retention (UR) after sacrocaudal luxation (SCL) between March 2013 and December 2020 were reviewed. Cats were included if they had confirmed SCL within 48 hours of the traumatic injury; persistent UR after three days of ineffective inpatient conservative management using urethral relaxing agents; surgical LTC placement with owner consent, and follow-up period longer than three months or until spontaneous micturition recovery.
Nine cats were included in the study; the mean time for placement of the LTC was 4.5 days following SCL, all cats were clinically evaluated at least three times during their LTC use. The decision to remove the LTC was made when the cat achieved spontaneous micturition for a minimum of three consecutive days.
Results showed that all cats returned to natural micturition spontaneously; two between the second and third weeks after the trauma, four between the third and fourth weeks, and three more than 30 days after the trauma. The LTCs were removed 11-42 (mean 26) days after placement or 17-47 (mean 30.7) days post-SCL.
Seven post-operative complications occurred in six cats, two cats had major complications involving accidental premature LTC tube extrusion and four cats had minor complications (urine leakage, hematuria, bacteriuria) that resolved after tube removal.
Limitations of the study include the retrospective nature, the small sample size, and the lack of detail on the cystostomy tube placement. It may also be confusing to describe this as long-term cystotomy as tube removal took place only 11-42 days after insertion.
This case series provides some evidence that cystostomy can be used as an alternative to manual expression or bladder catheterisation in cats with temporary urinary retention after sacrocaudal luxation. This method could allow for home-based management by the owner rather than periods of hospitalisation.
Image copyright attribute: kukota
We encourage discussion on all material highlighted in each edition of inFOCUS. Use the button below to join the conversation on Twitter and include your comment in the feed for this issue.
Twitter feed is not available at the moment.
https://infocus.rcvsknowledge.org/wp-content/uploads/2021/10/vet-and-cat-and-catheter.jpg
565
848
Myai Du
Myai Du
2021-10-20 08:39:26
2021-10-20 19:09:09
Outcomes of nine cats with urinary retention after sacrocaudal luxation managed with long-term urinary diversion