Incidence and type of peripheral intravenous catheter complications documented in hospitalised dogs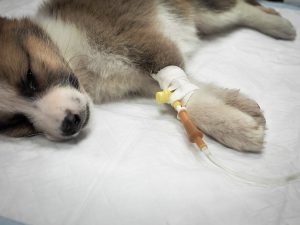 Author(s):
Simpson, S.E. and Zersen, K.M.
Published in:
Date:
November 2022
DOI:
Type of access:
Simpson, S.E. and Zersen, K.M. (2022) Incidence and type of peripheral intravenous catheter complications documented in hospitalised dogs. Journal of Small Animal Practice.
The aim of this prospective, observational study was to report the incidence and type of peripheral intravenous catheter (PIVC) complications in dogs admitted to either the Intermediate Care Unit (IMCU) or the Critical Care Unit (CCU) at a veterinary teaching hospital in the United States.
Dogs hospitalised in the IMCU or CCU ward between November 2020 and March 2021 that had a short PIVC in place for more than 24 hours and that had received intravenous fluids, were eligible for inclusion in the study. All PIVCs had been placed following a standard institutional protocol. The PIVCs were monitored for complications at least three times daily. Confirmed complications were documented and classified as extravasation, phlebitis, dislodgement, occlusion or line breakage. Phlebitis was graded (0-5) using the Visual Infusion Phlebitis Scale.
A total of 396 dogs were enrolled in the study, 240 in the CCU and 156 in the IMCU. There were 412 PIVCs placed during the study period, 252 CCU and 160 in IMCU. The overall incidence of complications was 82 (19.9%), 61 (24.2%) in the CCU and 21 (13.1%) in the IMCU. The most common complication in the CCU was phlebitis, and in the ICMU it was line breakage. The incidence of phlebitis and extravasation were significantly higher in the CCU than in the IMCU. There was no significant difference in the incidence of dislodgement, occlusion, or line breakage between the two wards. Patient weight and length of hospital stay had a significant effect on the likelihood of PIVC complication.
Limitations of the study are that the PIVCs were placed by a variety of individuals with different levels of experience, the possibility of errors occurring in the identification and recording of complications and that a number of potential risk factors including illness severity and gauge and location of catheters were not evaluated. The study did not document any cases of catheter-related infections, however as catheters were not cultured no conclusions can be drawn regarding incidence of catheter-related infections.
Claiming CPD for reading inFOCUS articles
Reading and reflecting on articles can count towards your CPD, and we have a template to help you with the process.
We encourage discussion on all material highlighted in each edition of inFOCUS. Use the button below to join the conversation on Twitter and include your comment in the feed for this issue.
Twitter feed is not available at the moment.
https://infocus.rcvsknowledge.org/wp-content/uploads/2023/02/Puppy-on-a-drip.jpg
3040
4053
Myai Du
Myai Du
2023-02-20 11:32:55
2023-02-21 09:16:52
Incidence and type of peripheral intravenous catheter complications documented in hospitalised dogs