Translating research into practice: Adoption of endocrine diagnostic testing in cases of equine laminitis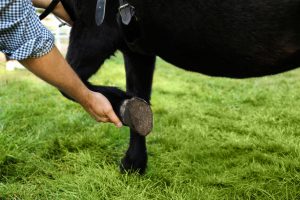 Author(s):
J.L. Ireland and C.M. McGowan
Published in:
Date:
March 2021
DOI:
Type of access:
Requires membership/payment
This article can be accessed via RCVS Knowledge Library Membership (click here).
Ireland, J.L. and McGowan, C.M. (2021) Translating research into practice: Adoption of endocrine diagnostic testing in cases of equine laminitis. The Veterinary Journal, 272, no. 105656
The aims of this two-part study were, firstly, to investigate current veterinary surgeons' diagnostic approaches to laminitis and to explore whether these had changed since graduation and, secondly, to determine how the diagnosis of an underlying endocrine disease influenced laminitis case management and outcome.
Two separate online surveys were undertaken. For the first survey, attendees at the BEVA Congress in September 2017 were invited to participate, and the link was promoted via BEVA's social media in November and December 2017. The second survey was promoted at the BEVA Congress in September 2019 and on the BEVA Facebook pages from October 2019-January 2020.
For both surveys, just under 50% of responses were completed by congress attendees.
The first survey requested information on current approaches to diagnosis in horses with clinical signs consistent with laminitis, and whether there has been any changes in the approach to diagnosis since graduation. The second survey requested information on perceptions regarding the management of cases of endocrinopathic laminitis and endocrine diagnostic testing.
One hundred and forty-one vets completed the questionnaire for study one and 120 for study two. There were no significant differences between study populations in terms of time qualified or type of practice.
In study one, the paper reports on the range of diagnostic procedures performed, with 140/141 participants reporting carrying out some form of endocrine testing for some or all laminitis cases at the first and/or re-examinations. 117/140 vets reported that they had changed their diagnostic approach to laminitis cases since graduation, mainly through increased use of endocrine testing, with personal experience and research/EBVM being the most frequently cited reasons for the change.
In study two, a range of factors influencing the perceived effect of endocrine disorders on case management and outcome for laminitis were reported, with the majority of participants reporting that diagnosing an endocrine disorder influenced their laminitis case management to a great extent. Where an endocrinopathy was identified, 75% of participants said this facilitated client communication regarding management, treatment options and prognosis and 66.7% of vets considered that treating endocrine disorders was highly effective in reducing the recurrence of further laminitis episodes.
Limitations of the study include selection bias for respondents; for both surveys, those with an interest in laminitis were more likely to participate, and all post-congress promotion was done via social media which would restrict participants to those with social media accounts. The authors suggest that the high number of responses from attendees at a national equine congress may mean that the study populations included significant numbers of vets who were more likely to practice evidence-based veterinary medicine and to change their practice, compared to the equine veterinary profession as a whole.
This study demonstrates the translation of research into equine practice leading to improved patient care. Most respondents reported that they now routinely included endocrine diagnostic testing in their approach to laminitis cases and that, as well as improving clinical aspects of case management, diagnosing and treating underlying endocrine disorders in horses with laminitis had led to improved communication with clients.
We encourage discussion on all material highlighted in each edition of inFOCUS. Use the button below to join the conversation on Twitter and include your comment in the feed for this issue.
Twitter feed is not available at the moment.
https://infocus.rcvsknowledge.org/wp-content/uploads/2021/06/vet_examine_hoof_horse.jpg
565
848
Myai Du
Myai Du
2021-06-23 09:27:35
2021-06-23 15:32:48
Translating research into practice: Adoption of endocrine diagnostic testing in cases of equine laminitis