A randomised controlled trial to reduce highest priority critically important antimicrobial prescription in companion animals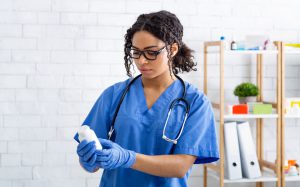 Author(s):
D.A. Singleton, A. Rayner, B. Brant, S. Smyth, P.J. Noble, A.D. Radford and G.L. Pinchbeck
Published in:
Date:
March 2021
DOI:
Type of access:
Singleton, D.A. et al. (2021) A randomised controlled trial to reduce highest priority critically important antimicrobial prescription in companion animals. Nature Communications, 12, no. 1593
This randomised controlled trial aimed to test the hypothesis that social norm messaging, via integrated electronic health record (EHR), antimicrobial prescription benchmarking and in-practice educational support, would reduce highest priority critically important antimicrobial (HPCIA) prescription frequency and antimicrobial prescription frequency in general, in a cohort of above average HPCIA-prescribing practices.
The study used EHRs supplied by 157 veterinary practices belonging to CVS Group Ltd that were participating in SAVSNET between 1st August 2018 and 15th January 2019. Practices that were within the top 40% most frequent total HPCIA prescribing bracket were eligible for inclusion.
From the 68 practices that were initially eligible, 60 practices were randomly selected and allocated evenly into three intervention groups: the control group (CG), the low intervention group (LIG), or the high intervention group (HIG). For the LIG and HIG groups, the trial consisted of two phases: 1) initial notification of their above average HPCIA prescribing status, 2) a voluntary education and reflection programme, with the intensity of the programme varying according to intervention group; for the HIG this programme included in-person support. All groups had access to the SAVSNET portal which offered free benchmarking for antimicrobial prescription. Post-intervention monitoring was carried out between April – November 2019, the primary outcome measure was post-intervention total HPCIA prescription frequency as a percentage of total consultations.
Results post-intervention showed that for dogs, the HIG total HPCIA prescription frequency significantly reduced by 23.5%, but no significant change was seen in the LIG, compared to the CG. For cats, a significant decrease in HPCIA prescription frequency was seen in both the HIG (39.0%) and LIG (16.7%) compared to the CG.  When looking at broader antimicrobial prescription, the HIG was associated with a significant decrease in the percentage of dog (18.9%) and cat (17.3%) consultations, in which a systemic antimicrobial was prescribed, compared to the CG.
Limitations of the study include the lack of detail on the education programme used and that it benefited from existing quality improvement management structures within the practice groups involved, meaning that the intervention may not be feasible in other practice settings.
This study shows that it is possible to change antimicrobial prescribing behaviour through in-practice education and reflection combined with benchmarking in practice settings, when quality improvement management structures are in place. The study should assist discussions in practices on this important topic and provides evidence to support the development of national stewardship schemes with interventions that are applicable in a wide variety of practice settings.
Image copyright attribute: milkos
We encourage discussion on all material highlighted in each edition of inFOCUS. Use the button below to join the conversation on Twitter and include your comment in the feed for this issue.
Twitter feed is not available at the moment.
https://infocus.rcvsknowledge.org/wp-content/uploads/2021/06/Vet_holding_medication_tablets.jpg
546
877
Myai Du
Myai Du
2021-06-23 09:27:16
2021-06-23 15:31:21
A randomised controlled trial to reduce highest priority critically important antimicrobial prescription in companion animals