A scoping review of the current evidence on treatment and outcomes following synovial sepsis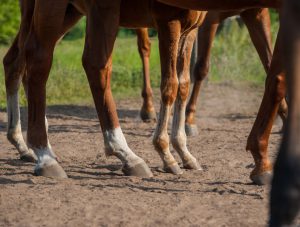 de Souza, T.C. et al. (2021) A scoping review of the current evidence on treatment and outcomes following synovial sepsis. Equine Veterinary Journal https://doi.org/10.1111/evj.13527
The aim of this scoping review was to identify and evaluate the available literature on treatments and outcomes for synovial sepsis in the horse and to identify areas suitable for a future systematic review.
A literature search was performed on four databases yielding an initial 2,338 studies. These studies were appraised against defined inclusion and exclusion criteria, with 61 remaining to be included in the final analysis. Data extracted from these 61 studies included study method, population characteristics, treatment techniques, outcomes measured, and factors associated with treatment outcomes.
Eight of the 61 studies investigated outcome measures following synovial sepsis in the horse and reported risk factors associated with two outcome measures, either survival and/or return to athletic function. There were 15 significant risk factors identified, which were categorised as pre-operative (n=6), intraoperative (n=6) and post-operative (n=3). Risk factors included the number or type of synovial structures involved, the presence of pannus, tendon injury, bone pathology, and the use of systemic antimicrobials.
Treatment techniques described in the studies included a combination of lavage and systemic and regional antimicrobials (54/61 studies), with drainage described in 20/54 of these studies. Specific surgical method was described in 21/61 studies and a surgical implant in 13/61.
A range of inconsistencies between the studies were highlighted that could be grouped under three areas: definitions for inclusion criteria for, or diagnosis of, cases of synovial sepsis; measurement of outcomes (including a measure of treatment success, follow-up duration and follow-up method) and study design and conduct (small sample sizes, lack of confounding variables, lack of treatment details).
Limitations of the study include those inherent in a scoping review, in that there is no specific analytical critique of the literature, nor does it answer a specific research question. Despite the broad search strategy, several articles that met the inclusion criteria were not identified, relevant articles were also excluded due to lack of access to full text or a translation for non-English language studies. There was also a possibility of selection bias in the parts of the methodology carried out by a single author. Whilst not a limitation of the scoping review itself, the limitations of the current research base mean that clear treatment recommendations are not included.
This scoping review provides information on the current evidence regarding treatment outcomes following synovial sepsis in horses. Recommendations for future research are given, including standardisation of inclusion criteria for cases of synovial sepsis and outcome measurements, prospective multicentre studies, and standardised reporting of treatment techniques.
We encourage discussion on all material highlighted in each edition of inFOCUS. Use the button below to join the conversation on Twitter and include your comment in the feed for this issue.
Twitter feed is not available at the moment.
https://infocus.rcvsknowledge.org/wp-content/uploads/2022/02/horses_legs.jpg
601
796
Myai Du
Myai Du
2022-02-22 09:00:55
2022-02-22 09:00:55
A scoping review of the current evidence on treatment and outcomes following synovial sepsis