2022 ISFM consensus guidelines on the management of acute pain in cats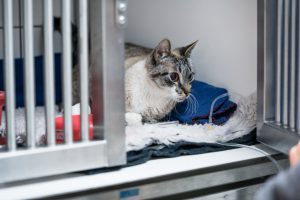 Author(s):
P.V. Steagall, S. Robertson, B. Simon, L.N. Warne, Y. Shilo-Benjamini and S. Taylor
Published in:
Date:
December 2021
DOI:
Type of access:
Steagall, P.V. et al. (2022) 2022 ISFM consensus guidelines on the management of acute pain in cats. Journal of Feline Medicine and Surgery, 24 (1), pp. 4-30 https://doi.org/10.1177/1098612X211066268
These consensus guidelines are intended for general practitioners to assist in the assessment, prevention, and management of acute pain in cats, and to provide a practical guide to the selection and use of effective analgesic agents.
The guidelines were created by a panel of experts and the International Society of Feline Medicine (ISFM), based on the available literature and the authors' experience. Although two of the authors have provided consultancy services to, and received honoraria from, pharmaceutical companies, none of the authors received any financial support for the research, authorship, and/or publication of this article.
The guidelines are divided into three main sections. The first section covers the assessment and recognition of pain in cats, covering pain-related behaviours and an overview of validated feline acute pain assessment tools.
The second section covers the treatment of pain, including the effect of feline drug metabolism and elimination, and comorbidities on analgesia. It then describes how to build an acute pain management plan, incorporating both multimodal analgesia and non-pharmacological care.
The third section provides a detailed overview of the analgesic drugs that can be used and includes recommended dose rates and practical advice on routes of administration.
The authors also identify areas where further research is needed and emphasise pain management as a key component of feline welfare.
Limitations of these guidelines include the lack of detail regarding the method of development of the consensus opinion or any explicit grading of the published evidence.
These guidelines provide a useful review of acute pain management in the cat, alongside practical information on how to apply this in practice to improve animal welfare.
Image copyright attribute: kzenon
We encourage discussion on all material highlighted in each edition of inFOCUS. Use the button below to join the conversation on Twitter and include your comment in the feed for this issue.
Twitter feed is not available at the moment.
https://infocus.rcvsknowledge.org/wp-content/uploads/2022/02/cat_cage_clinic.jpg
565
847
Myai Du
Myai Du
2022-02-22 09:00:33
2022-07-04 16:38:29
2022 ISFM consensus guidelines on the management of acute pain in cats