A single-cohort retrospective analysis of factors associated with morbidity and mortality in 193 anesthetized domestic goats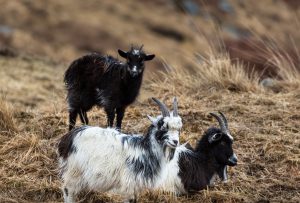 Author(s):
Steen, J., Romano, M., Portela, D.A., Johnson, A.N., Shippy, S. and Chiavaccini, L.
Published in:
Date:
February 2023
DOI:
Type of access:
Requires membership/payment
This article can be accessed via RCVS Knowledge Library Membership (click here).
Steen, J. et al. (2023) A single-cohort retrospective analysis of factors associated with morbidity and mortality in 193 anesthetized domestic goats. Veterinary Anaesthesia and Analgesia
The aim of this retrospective observational study was to investigate the mortality and prevalence of perianaesthetic complications in goats undergoing general anaesthesia and to identity associated risk factors.
The study was carried out at a large animal university teaching hospital in Florida. The clinical records of all goats undergoing general anaesthesia for surgical or diagnostic procedures between 2017-2021 were eligible for the study. Data extracted from the records included: whether the surgical procedure was elective or emergency, the American Society of Anesthesia physical status (ASA-PS) classification, the drugs administered, the duration of the anaesthesia and of the procedure, and information on perianaesthetic and anaesthesia-related/contributary deaths.
A total of 218 anaesthesia records from 193 goats were eligible for inclusion in the study. Review of the records showed preanaesthetic medication included any or a combination of benzodiazepine, α²-receptor agonist and an opioid. Anaesthesia was induced with ketamine, propofol or alfaxalone.
Anaesthesia was maintained with sevoflurane or isoflurane in 98.6% of goats. Infusions of ketamine, lidocaine or fentanyl were administered in 37.6% of goats and locoregional analgesia in 49.1% of goats. Intermittent positive pressure ventilation was started during anaesthesia in 67.4% of goats, of these the peak inspiratory pressure and positive end-expiratory pressure were recorded in 59.2% and 61.2% respectively. The median anaesthesia duration was 120 (range 97-162) minutes, and median procedure duration was 82 (62-116) minutes.
A total of  24 goats died within 72 hours of anaesthesia, of these eight were humanely euthanised and 16 (7.3%) died from anaesthesia-related/contributary causes. If emergency procedures were excluded from the analysis the mortality rate was 3.4%, if only goats with an ASA-PS I/II classification before anaesthesia were considered the mortality rate was 1.1%.
Goats undergoing gastrointestinal surgeries and goats requiring norepinephrine infusion were associated with increased mortality risk. The use of perianaesthetic infusion of ketamine was associated with decreased mortality risk.
Anaesthesia related/contributory complications with a prevalence greater than 10% were hypothermia, bradycardia, hypotension and hypoxaemia.
Limitations of the study include the retrospective nature and that the study population came from one hospital and therefore the  results from this study may not be generalisable to the general goat population.
This  study provides some useful benchmark data for goats undergoing general anaesthesia, including identifying gastrointestinal surgeries and perianaesthetic norepinephrine infusion as risk factors for mortality.
For further information on reducing the risk of anaesthetic deaths you may be interested in the section on anaesthesia in
inFOCUS: Reducing errors in veterinary practice  RCVS Knowledge] [Online] https://infocus.rcvsknowledge.org/revp-reducing-errors-in-veterinary-practice/ [Accessed 22 April 2023]
Claiming CPD for reading inFOCUS articles
Reading and reflecting on articles can count towards your CPD, and we have a template to help you with the process.
We encourage discussion on all material highlighted in each edition of inFOCUS. Use the button below to join the conversation on Twitter and include your comment in the feed for this issue.
Twitter feed is not available at the moment.
https://infocus.rcvsknowledge.org/wp-content/uploads/2023/04/Goats.jpg
1683
2492
Myai Du
Myai Du
2023-04-23 13:54:54
2023-04-23 13:54:54
A single-cohort retrospective analysis of factors associated with morbidity and mortality in 193 anesthetized domestic goats