The impact of vegan diets on indicators of health in dogs and cats: A systematic review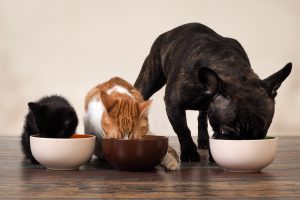 Author(s):
Domínguez-Oliva, A., Mota-Rojas, D., Semendric, I. and Whittaker, A.L.
Published in:
Date:
January 2023
DOI:
Type of access:
Domínguez-Oliva, A., Mota-Rojas, D., Semendric, I. and Whittaker, A.L. (2023) The impact of vegan diets on indicators of health in dogs and cats: A systematic review. Veterinary Sciences, 10 (1), no. 52
The purpose of this systematic review was to formally assess the published evidence relating to the health impact of feeding vegan diets to dogs and cats.
A literature search was carried out in October 2022 on three databases using a strategy aimed to locate papers, published in English or Spanish, where the animals had been fed a vegetarian, vegan or plant-based diet. Outcomes had to relate to animal health, physiology, or welfare.
After screening 16 studies were included for review, 10 focused on dogs and five on cats, with one study including both.  Nine of the studies included a comparator group fed on a different diet. Thirteen studies directly measured health outcomes in the animals, whilst eight gathered guardian reports on health outcomes or perceptions of health, two studies included both types of assessment.
The authors assessed all experimental studies as Randomised Controlled Trials as it was deemed that randomisation or other methods to reduce risk of selection bias could occur. This led to a large number of the studies being assigned an "unclear risk of bias" rating. The authors used a GRADE approach to assess the evidence and concluded that the certainty of evidence was graded as low or very low for all outcome parameters, with the exception of bodyweight/condition in dogs, where it was graded as moderate.
Meta-analysis of the results was not possible due to lack of comparable outcome data.
The included studies produced a range of sometimes contradictory results. In cats fed vegan diets a number of abnormalities including low potassium and low taurine were reported, however guardians generally reported that their cats were in good health.
In dogs although several biochemical and haematological changes were noted these generally remained in the reference range and were not correlated with clinical findings. Again, guardians generally perceived their dogs to be in good health.
Although the authors of this systematic review define a vegan diet as one containing no animal-based products they acknowledge that the authors of the included papers may not have used the same definition. The characteristics of the diets fed in the included studies showed a wide variety of diets that were fed over a variable duration making interpretation difficult.
Limitations include the small number of studies investigating the impact of vegan diets on cat and dog health, that available studies had small sample sizes with larger studies tending to rely on owner reports which may be subject to selection and recall bias. The authors also note that survey studies were not appraised, given the lack of established critical appraisal tool for this type of research within veterinary medicine.
Despite concerns about the ability of vegan diets to meet the nutritional requirements of dogs and cats there is currently limited available evidence of these diets leading to adverse health effects. Further large population-based studies, using more objective measures are needed to provide further evidence on this subject.
The following may also be of interest:
inFOCUS: Unconventional diets for dogs and cats [RCVS Knowledge] [online] Available from: https://infocus.rcvsknowledge.org/udfdc-unconventional-diets-for-dogs-and-cats/  [Accessed 22 April 2023]
Claiming CPD for reading inFOCUS articles
Reading and reflecting on articles can count towards your CPD, and we have a template to help you with the process.
We encourage discussion on all material highlighted in each edition of inFOCUS. Use the button below to join the conversation on Twitter and include your comment in the feed for this issue.
Twitter feed is not available at the moment.
https://infocus.rcvsknowledge.org/wp-content/uploads/2023/04/cats-and-dog-eating.jpg
1672
2508
Myai Du
Myai Du
2023-04-23 13:55:10
2023-04-24 16:15:43
The impact of vegan diets on indicators of health in dogs and cats: A systematic review