Commonly diagnosed disorders in domestic cats in the UK and their associations with sex and age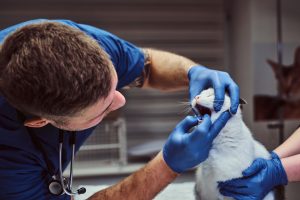 Author(s):
O'Neill, D.G., Gunn-Moore, D., Sorrell, S., McAuslan, H., Church, D.B., Pegram, C. and Brodbelt, D.C.
Published in:
Date:
February 2023
DOI:
Type of access:
O'Neill, D.G., Gunn-Moore, D., Sorrell, S. et al (2023) Commonly diagnosed disorders in domestic cats in the UK and their associations with sex and age. Journal of Feline Medicine and Surgery. 25 (2).
The aim of this retrospective cohort study was to report the prevalence of common disorders in cats under primary care in the UK over a one-year period, and to explore their associations with sex and age.
A random sample of cats was obtained from the cats under primary veterinary care at clinics participating in the VetCompass Programme in 2019. Electronic health records (EPR) were manually reviewed, and information on all disorders was gathered and associations with age and sex were analysed.
From the random sample of 18,249 cats 12,042 had at least one disorder recorded. A total of 25,891 unique disorder events were recorded with 641 distinct precise-level disorder terms. The most prevalent disorders were periodontal disease (15.2%), obesity (11.6%), dental disease (8.2%), overgrown nails (5.2%), flea infestation (5.1%) and heart murmur (4.4%).
Of the 30 most common disorders the prevalence differed between the sexes for 14 disorders. Females had a statistically higher prevalence for six disorders: poor quality of life, postoperative wound complication, overgrooming, flea bite hypersensitivity, overgrown nail(s) and hyperthyroidism. Males had higher prevalence for eight disorders: periodontal disease, road traffic accident, heart murmur, lameness, obesity, abscess, wound and cat bite injury.
Prevalence differed between younger and older cats for 27 disorders. Younger cats (<8 years) had higher prevalence for four disorders whereas older cats (⩾8 years) had higher prevalence for 23 disorders.
The study also gathered information on prevalence at a more general grouped-level disorder, the most prevalent were dental disorder (21.2%), obesity (11.6%), skin disorder (9.6%), enteropathy (8.5%), parasite infestation (6.3%) and heart disease (6%).
Female cats had higher grouped-level disorder prevalence in complications associated with clinical care, claw/nail disorders and endocrine system disorders. Heart disease, parasite infestation, upper respiratory tract disorder, adverse drug reaction, viral infectious disorder, obesity, traumatic injury, abscess and oral cavity disorder were more common in male cats.
Limitations of the study include that the study population came from a convenience sample of participating practices and may not therefore be generalisable to the general cat population, the variable quality of the recording in the EPRs and the potential bias introduced by selection of terms from drop down lists.
This study provides useful data on the most prevalent disorders, and the differential risk by sex and age, of cats attending primary care veterinary practices in the UK. Information on the high prevalence of preventable disorders will aid communication with cat owners about preventive healthcare strategies.
The following may also be of interest:
Hadar, B.N. et al. (2023) Morbidity of insured Swedish cats between 2011 and 2016: Comparing disease risk in domestic crosses and purebreds. Veterinary Record, 182 (12), p. e2778 https://doi.org/10.1002/vetr.2778
Chan, I et al. (2023) Prevalence and risk factors for common respiratory pathogens within a cohort of pet cats in the UK. Journal of Small Animal Practice. https://doi.org/10.1111/jsap.13623
Claiming CPD for reading inFOCUS articles
Reading and reflecting on articles can count towards your CPD, and we have a template to help you with the process.
We encourage discussion on all material highlighted in each edition of inFOCUS. Use the button below to join the conversation on Twitter and include your comment in the feed for this issue.
Twitter feed is not available at the moment.
https://infocus.rcvsknowledge.org/wp-content/uploads/2023/06/Vet-examining-cat-teeth.jpg
1672
2508
Myai Du
Myai Du
2023-06-19 09:51:32
2023-07-25 16:22:43
Commonly diagnosed disorders in domestic cats in the UK and their associations with sex and age