2021 AAFP Feline Senior Care Guidelines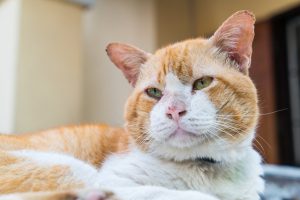 Author(s):
M. Ray, H.C. Carney, B. Boynton, J. Quimby, S. Robertson, K. St Denis, H. Tuzio and B. Wright
Published in:
Date:
June 2021
DOI:
Type of access:
Ray, M. et al. (2021) 2021 AAFP Feline Senior Care Guidelines. Journal of Feline Medicine and Surgery, 23 (7) pp. 613-638
These consensus guidelines provide information for practitioners on all aspects of the care of senior cats. The guidelines, which update the 2009 AAFP Senior Care Guidelines, were created by a panel convened by the International Society of Feline Medicine (ISFM) and are based on available literature and the consensus opinion of the panel.
The guidelines emphasise the importance of the veterinary examination and consultation with the owner, which, taken together, provide the best way to evaluate the needs of each individual cat and how their ageing process is influencing their wellbeing. The guidelines recommend that regular examinations with baseline diagnostics take place at least annually from age 7-10 to serve as a reference point against which to track future changes. For cats 10-15 years old, twice-yearly examinations are recommended, with examinations every four months for healthy senior cats over the age of 15.
The guidelines cover the most commonly encountered conditions in ageing cats and the problems of managing multiple conditions and chronic pain that can influence the quality of life is discussed. The final section considers issues related to end-of-life care including palliative and hospice care, decision making and difficult conversations, and euthanasia.
Supplementary material, which includes client brochures, information on available quality of life and health-related quality of life instruments and videos demonstrating myofascial examination techniques and cat-friendly tips for dental exams, is available at https://catvets.com/guidelines/practice-guidelines/senior-care-guidelines.
Limitations of the study include the lack of an explicit statement of the methodology and evidence grading used to compile the guidelines.
These consensus guidelines provide all members of the practice team with an overview of current knowledge on the care of senior cats. They provide a useful source of information for discussions with clients and on which to produce local practice guidelines.
If you are interested in end-of-life care, then you will find the following resources useful:
Bishop, G. et al (2016) 2016 AAHA/IAAHPC End of Life Care Guidelines. Journal of the American Animal Hospital Association, 52 (6), pp. 341-356. https://doi.org/10.5326/JAAHA-MS-6637
2021 AAFP End of Life Online Educational Toolkit [AAFP] [online] Available from https://catvets.com/end-of-life-toolkit/ [Accessed 5 August 2021]
We encourage discussion on all material highlighted in each edition of inFOCUS. Use the button below to join the conversation on Twitter and include your comment in the feed for this issue.
Twitter feed is not available at the moment.
https://infocus.rcvsknowledge.org/wp-content/uploads/2021/08/Old-cat.jpg
566
847
Myai Du
Myai Du
2021-08-25 07:03:55
2021-08-25 07:43:15
2021 AAFP Feline Senior Care Guidelines