Equine influenza vaccination in the UK: Current practices may leave horses with suboptimal immunity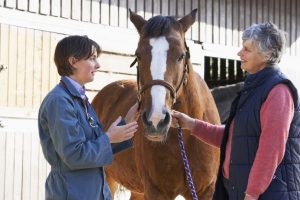 Wilson, A. et al (2021) Equine influenza vaccination in the UK: Current practices may leave horses with suboptimal immunity. Equine Veterinary Journal, 53 (5) pp 1004-1014.
The aim of this cross-sectional survey study, which was funded by MSD, was to investigate current vaccination practices advised by equine vets in the UK and to compare practices with current guidelines including manufacturers' datasheets and industry guidelines. The study also investigated the influence of the recent equine influenza (EI) outbreak on practices and the prevalence of adverse drug reactions following vaccination and vaccine hesitancy in horse owners.
The online survey questionnaire was sent to RCVS-registered equine practices and publicised on relevant social media sites between November 2019 and February 2020. A total of 304 valid responses were received, of which 74% were equine-only vets and 55.2% had graduated less than or equal to 10 years ago. The respondents' workload was made up of leisure horses (97.4%), competition horses (86.2%), stud (47.7%) and racing (40.5%).
The conditions most commonly vaccinated against were EI, tetanus and Equine Herpes Virus (EHV1&4). The biggest influencers to the vets' vaccination practice were competition rules or regulations (92.1%), licensed manufacturers' datasheet (82.9%), practice policy (28.6%) and owner's opinion (25%). Respondents mentioned 25 different sources of vaccination guidelines.
For EI first vaccination age, 89.1% of responses were compliant with datasheet recommendations for competition horses and 89.5% for non-competition horses. The most common interval stated for first to second vaccination was 21-92 days which is compliant with many competition guidelines, but the range was greater than datasheet recommendations for licenced vaccinations in the UK. Only a third of vets recommended 1st-2nd vaccination intervals that were compliant with datasheet recommendations (typically 4-6 weeks): 34% and 35% for competition and leisure horses respectively.
For the interval between second and third vaccination, only 7.7% of responses for competition horses and 4.7% for leisure horses were compliant with datasheet recommendations (5 months / 150 days after the primary course). 57% of respondents reported variation in advised 'booster' or repeat vaccination frequency for competition and non-competition horses, the most common intervals were six-monthly for competition horses and annual for leisure horses. For competition horses, only 10.2 % advised an interval between the primary course of vaccinations and attendance at an event that complied with datasheet recommendations of a minimum of 14 days.
65.5% of respondents reported at least one adverse drug reaction (ADR) following vaccination in the previous 12 months, there was significant under-reporting of ADRs. Vaccine hesitancy from owners was experienced by 86.4% of vets, the most common reasons for this hesitancy were the view that vaccination is not necessary, previous experience of ADRs, side effects or lack of effectiveness. 63.2% reported a permanent change to their vaccine practice following the 2019 EI outbreak and 18.8% had changed their practice temporarily.
Limitations of the study include potential selection and recall bias from the survey population and the possibility that responses may have been affected by the recent EI and EHV1&4 outbreaks in the UK.
The study provides some evidence that whilst current equine vaccination practices advised by vets in the UK complied with competition guidelines, most did not comply with the licensed vaccine manufacturers' datasheets, which could potentially reduce the effectiveness of vaccination programmes in the UK. Reducing the number of guidelines and regulations available to vets and horse owners would assist with compliance and ultimately lead to an improvement in equine welfare.
We encourage discussion on all material highlighted in each edition of inFOCUS. Use the button below to join the conversation on Twitter and include your comment in the feed for this issue.
Twitter feed is not available at the moment.
https://infocus.rcvsknowledge.org/wp-content/uploads/2021/12/5..jpg
565
848
Myai Du
Myai Du
2022-01-04 08:30:18
2022-01-05 07:44:05
Equine influenza vaccination in the UK: Current practices may leave horses with suboptimal immunity