Using psychopharmacology in the treatment of problem behaviours in dogs and cats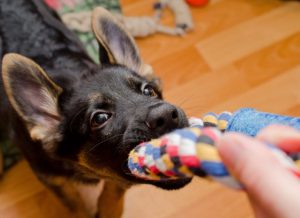 Author(s):
C. Warnes
Published in:
Date:
October 2021
DOI:
Type of access:
Requires membership/payment
This article can be accessed via RCVS Knowledge Library Membership (click here).
Warnes, C. E. (2021) Using psychopharmacology in the treatment of problem behaviours in dogs and cats. Companion Animal, 26 (9), pp. 1-10
This review article, written by a veterinary behaviourist, provides an overview of some of the behaviourally-active drugs that are used to treat dogs and cats in the UK and discusses some of the factors that need to be considered when using medication as part of behaviour modification in cats and dogs.
The types of problem behaviours where medication is most likely to be useful are outlined. These include exposure to specific situations that will cause an animal to become distressed; where an animal is experiencing chronic stress, and it is not possible to reduce their exposure to the problem triggers; where an animal is experiencing high levels of emotional arousal; and where a rapid response to behaviour modification is needed.
The next section discusses the important factors that need to be considered before prescribing medication for behavioural modification. These include identifying or ruling out medical problems, an understanding of the behavioural problem from a thorough behavioural assessment, and the need for medication to form part of an overall behaviour modification plan. Factors influencing the selection of medication are then covered. These include legal constraints, including prescribing under the Cascade, considerations relating to the problem behaviour or considerations associated with the individual animal.
The modes of action for the two main types of behaviourally-active drugs, short-acting fear and anxiety-reducing drugs and those used for the longer-term treatment of behaviour problems, are discussed. Tables provide information on the most commonly used behaviourally-active drugs, including the conditions they are most suitable for, time to onset of effect, length of activity, side effects and dose ranges.
The article concludes by emphasising the need to involve a suitably qualified behaviourist before prescribing medication. If the referral is not to a veterinary behaviourist, then the referring veterinary surgeon should maintain responsibility for the specific choice of drug. Regular liaison between the referring vet and the behaviourist is required for animals on long-term behaviourally-active medication, as this will allow monitoring of progress, alongside adverse effects and any adjustments needed to the medication.
This review article provides vets in general practice with a good overview of the factors to consider before prescribing behaviourally-active medication with clearly laid out information on the most commonly available drugs.
We encourage discussion on all material highlighted in each edition of inFOCUS. Use the button below to join the conversation on Twitter and include your comment in the feed for this issue.
Twitter feed is not available at the moment.
https://infocus.rcvsknowledge.org/wp-content/uploads/2021/12/3..jpg
590
811
Myai Du
Myai Du
2022-01-04 08:30:33
2022-01-04 19:50:42
Using psychopharmacology in the treatment of problem behaviours in dogs and cats