Scrubs contamination, domestic laundry effect and workwear habits of clinical staff at a referral hospital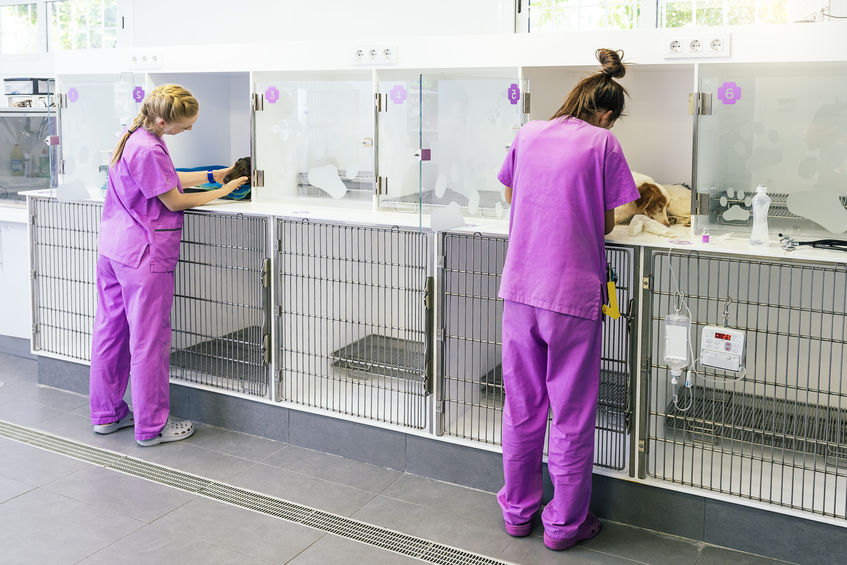 Author(s):
P. Kokkinos, L. Morgan, K. Hughes, D. Pollard, J. Gasson and K. Bowlt‐Blacklock
Published in:
Date:
February 2020
DOI:
Type of access:
Kokkinos, P. et al. (2020), Scrubs contamination, domestic laundry effect and workwear habits of clinical staff at a referral hospital. Journal of Small Animal Practice, 61, pp. 272-277
This cross-sectional study aimed to document bacterial contamination levels on uniforms worn by veterinary staff after a clinical shift; to investigate the efficacy of home laundry on bacterial load, and to explore staff habits towards work uniform during and after a clinical shift.
The study involved 9 vets and 9 vet nurses at the small animal referral centre at the Animal Health Trust (AHT). The participants were given sterilised uniforms of scrub tops and trousers to wear for their clinical shift of at least 8 hours.
Worn uniforms (pre-wash group) were collected at the end of the shift for bacterial analysis. A single 3 × 3 inch patch was cut from the beltline/pocket area and from the right knee region from each participant's uniform. The patches were cut down and analysed for bacterial contamination, 36-48 hrs after completion of the shift.
There were three control measures: a negative control unworn uniform set and two media controls — peptone water (involved in bacterial extraction) and HPC agar black (the bacteria growth medium) to ensure there was no contamination in the testing process.
To assess the efficacy of home laundry, the uniforms were individually laundered at 30°C with a commercial non-biological washing powder in a household laundry machine (post-wash group). The uniforms were then subjected to the same bacterial testing as for the pre-wash group. This time, the patches were from sites adjacent to that harvested previously.
The results revealed there was bacterial contamination of uniforms during clinical shifts. The bacteria detected were Staphylococcus spp., Bacillus spp., Pseudomonas aeruginosa, β-haemolytic Streptococci and E. coli. From a total of 72 samples tested, 45/72 yielded positive bacterial growth, of these 32/45 were from the pre-wash group and 13/45 from the post-wash group. There was a statistically significant difference in bacterial load between the pre-wash and post-wash samples.
All control sample results were negative for bacterial growth. The study found no association of bacterial load in the pre-wash group with the length of the shift or with the number of animals handled during the shift.
As part of the study, veterinary staff at the AHT were also invited to complete a questionnaire about their work uniform habits. 101 staff completed the questionnaire, 64.4 % and 58.4% of staff reported wearing fresh clean uniform tops and trousers respectively each day and about two-thirds of them did not regularly change their work clothing before travelling home. 40.6% were not aware of the AHT guidelines for home laundry.
Limitations to the study included that participation in the study was voluntary with the participants aware of the purpose, which may have influenced their behaviour, and that standardised laundry at 30 degrees centigrade does not mimic 'real-life' conditions. In addition, there was a wait of up to 48 hrs before the bacterial testing process, meaning those bacteria susceptible to oxygen may have died before reaching the laboratory.
This study highlights the need for veterinary staff to be aware of the potential for cross-infection before, after and during clinical shifts. Veterinary practices should have uniform hygiene policies, as well as appropriate provisions to support the policies, in place to encourage staff compliance.
We encourage discussion on all material highlighted in each edition of inFOCUS. Use the button below to join the conversation on Twitter and include your comment in the feed for this issue.
Twitter feed is not available at the moment.
https://infocus.rcvsknowledge.org/wp-content/uploads/2020/04/Vets-in-scrubs-in-practice.jpg
565
847
Myai Du
Myai Du
2020-04-22 08:00:57
2020-04-22 08:16:09
Scrubs contamination, domestic laundry effect and workwear habits of clinical staff at a referral hospital