Evaluation of Pexion® (imepitoin) for treatment of storm anxiety in dogs: A randomised, double-blind, placebo-controlled trial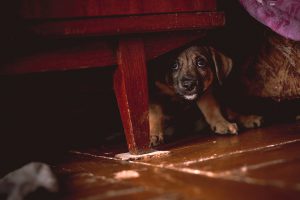 Author(s):
I. Perdew, C. Emke, B. Johnson, V. Dixit, Y. Song, E.H. Griffith, P. Watson and M.E. Gruen
Published in:
Date:
May 2021
DOI:
Type of access:
Perdew, I. et al. (2021) Evaluation of Pexion® (imepitoin) for treatment of storm anxiety in dogs: A randomised, double-blind, placebo-controlled trial. Veterinary Record, 188 (9), p. e18.
The aim of this randomised placebo-controlled, double-blinded study was to assess the efficacy of imepitoin for the treatment of storm anxiety in dogs. The study was funded by Boehringer Ingelheim manufacturers of Pexion® and carried out by the College of Veterinary Medicine, North Carolina State University.
Participants were recruited via social media and emails to local veterinarians. Interested owners completed a pre-screening questionnaire to assess eligibility for inclusion. To be included, dogs needed to be between 1- and 12-years, weigh between 2 and 50 kg, have a history of storm anxiety and score ≥ 30 on the Lincoln Sound Sensitivity Scale. The study consisted of a baseline period in which owners completed a minimum of two logs for storms their dog was exposed to. The storm logs recorded the duration and intensity of the storm, and an owner assessment of the intensity of their dogs' behavioural signs on the Lincoln Sound Sensitivity Scale. Following completion of the baseline period, dogs were randomised to receive either imepitoin or placebo for a 28-day period during which owners completed storm logs for each storm observed. Owners also completed a weekly online survey in which they rated the frequency and intensity of behavioural signs to storms and reported any adverse reactions. At the end of the study, owners completed a seven-question survey on their impressions of the treatment received.
Forty-five dogs were enrolled on the study, 30 received imepitoin and 15 placebo. Results of the weekly survey showed that both treatment with imepitoin and placebo were associated with a decrease in signs of storm anxiety based on owner-reported assessment compared to baseline. However, imepitoin was significantly superior at week two and week four in the storm logs and weekly surveys, and in the two efficacy questions at the end of study survey.
Mild-to-moderate adverse events were reported in 26 dogs, including 24/30 in the imepitoin group and 2 in the placebo group. The most frequent adverse event was ataxia, which was reported in 18/30 (60%) of the imepitoin group and 1/15 (6.7%) of the placebo group.
Limitations of the study included the small sample size, the reliance on owner rating of behaviours and the unpredictability of storm events, which mean the number of exposures could not be controlled during the study period.
This study provides some evidence that twice-daily administration of imepitoin decreased owner-reported anxiety scores in dogs with anxiety of storms. Given the high rate of adverse events, further studies that evaluate whether lower dosages provide similar efficacy are required.
We encourage discussion on all material highlighted in each edition of inFOCUS. Use the button below to join the conversation on Twitter and include your comment in the feed for this issue.
Twitter feed is not available at the moment.
https://infocus.rcvsknowledge.org/wp-content/uploads/2021/08/Dog-hiding-under-table.jpg
565
847
Myai Du
Myai Du
2021-08-25 07:03:10
2021-08-26 07:44:33
Evaluation of Pexion® (imepitoin) for treatment of storm anxiety in dogs: A randomised, double-blind, placebo-controlled trial