Ageing in cats: owner observations and clinical finding in 206 mature cats at enrolment to the Cat Prospective Ageing and Welfare Study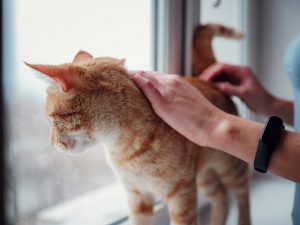 Author(s):
N. Dowgray, G. Pinchbeck, K. Eyre, V. Biourge, E. Comerford and A.J. German
Published in:
Date:
April 2022
DOI:
Type of access:
Dowgray, N. et al. (2022) Aging in cats: owner observations and clinical finding in 206 mature cats at enrolment to the Cat Prospective Aging and Welfare Study. Frontiers in Veterinary Science, 9, 859041.
The aim of this study, funded by Royal Canin, was to gather standardised information through both owners and veterinary assessments to determine disease prevalence, behavioural changes, and changes in physical appearance in a group of mature cats. The authors hypothesised that there would be associations between the diagnosis of diseases and the presence of owner-reported changes and the cat's home care and environment.
­­This study was part of the Cat Prospective Ageing and Welfare Study based at the Feline Healthy Ageing Clinic (FHAC) at the University of Liverpool and used data from the enrolment appointments which occurred between February 2017 and October 2019. Eligible cats were between seven and nine years of age, whose owners agreed to visit the FHAC every six months.
Before the enrolment appointment, owners completed a questionnaire which included questions on the cat's environment, feeding behaviours and health, including current and previous illnesses and current behaviours. All cats underwent a clinical assessment at enrolment performed by the same veterinary surgeon. Set diagnostic criteria for age-related disease were used to determine disease states.
Two hundred and six cats, from one hundred and forty-seven owners, were enrolled in the study. 53% of cats were reported to have had one or more episodes of ill-health before enrolment; gastrointestinal disease, skin disease, and lower urinary tract disease were the most commonly reported.
Physical changes were reported by 53% of owners, activity changes by 40%, changes to eating patterns by 41% and behaviour changes by 47%. The most common abnormalities in the 85% of cats where a complete physical examination was possible were abnormalities in the orthopaedic examination and dental disease. Forty-five per cent of cats were overweight and 12% were obese. A heart murmur was detected in 29% of cats.
Azotaemia was associated with an increased frequency of owners reporting their cat "sniffing at food then walking away". Dental disease at enrolment was associated with a presence of a matted coat, increased sleeping, and absence of grey hairs. Abnormalities at orthopaedic examination were associated with a matted coat and increased grooming.
Limitations of the study include that data was only collected at a single time point so cannot provide information on disease progression, that only associations could be made between owner-reported cat behaviours and clinical findings with no causal links established, and possible population bias as owners with an interest in ageing cats were likely to be willing to attend the clinic.  There were small numbers for some disease calculations.
This study provides some evidence of disease prevalence in mature cats. It highlights that detailed clinical assessments should form the basis of wellness plans for cats as they age. The association of some owner-reported changes with the presence of chronic disease could inform discussions with owners, as raising awareness and encouraging owners to seek veterinary assessment could lead to earlier diagnosis.
We encourage discussion on all material highlighted in each edition of inFOCUS. Use the button below to join the conversation on Twitter and include your comment in the feed for this issue.
Twitter feed is not available at the moment.
https://infocus.rcvsknowledge.org/wp-content/uploads/2022/06/Cat-with-owner.jpg
599
799
Myai Du
Myai Du
2022-06-28 14:42:40
2022-06-29 12:53:11
Ageing in cats: owner observations and clinical finding in 206 mature cats at enrolment to the Cat Prospective Ageing and Welfare Study