2022 AAHA Pain Management Guidelines for Dogs and Cats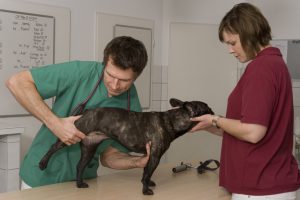 Author(s):
M.E. Gruen, B.D.X. Lascelles, E. Colleran, A. Gottlieb, J. Johnson, P. Lotsikas, D. Marcellin-Little and B. Wright
Published in:
Date:
February 2022
DOI:
Type of access:
Gruen, M.E. et al. (2022) 2022 AAHA Pain Management Guidelines for Dogs and Cats. Journal of the American Animal Hospital Association, 58 (2), pp. 55–76.
The aim of these guidelines, produced by a task force of experts invited by the American Animal Hospital Association, is to help members of the veterinary team to assess pain in cats and dogs and to create pain management plans, as well as to provide guidance on how initial plans can be reassessed and adjusted as required. They build on and update the 2015 AAHA/AAFP pain management guidelines for dogs and cats.
As the assessment of pain is different between dogs and cats, separate Pain Assessment Toolboxes are presented for each. These toolboxes include discussions on the guiding principles for the clinical assessment of acute, perioperative, and chronic pain and the available clinical metrology instruments. They also provide flowcharts outlining the approach to acute and chronic pain assessment.
The guidelines also include a decision tree for prioritising a tiered approach to pain management therapies including both pharmacologic and non-pharmacologic options.
Key messages include:
the importance of a proactive approach to pain management involving the whole veterinary team
owners should also be considered as members of the team with information provided on recognition and management of pain
there are an increasing number of available tools and recommendations which can aid assessment of pain
pain management requires an integrated, proactive, pre-emptive multimodal strategy using a tiered decision approach to both pharmacological and non-pharmacological treatments
patients should be re-evaluated regularly, and treatment plans adjusted accordingly
Limitations of the study include the lack of clarity on the methodology and evidence grading used in developing these guidelines.
The guidelines provide all members of the practice team with a framework for managing the assessment and management of pain in dogs and cats. They are a valuable addition to the available literature on this topic and can be used as a basis on which to produce local practice guidelines.
We encourage discussion on all material highlighted in each edition of inFOCUS. Use the button below to join the conversation on Twitter and include your comment in the feed for this issue.
Twitter feed is not available at the moment.
https://infocus.rcvsknowledge.org/wp-content/uploads/2021/12/1.-.jpg
564
848
Myai Du
Myai Du
2022-06-28 14:42:25
2022-06-28 14:54:47
2022 AAHA Pain Management Guidelines for Dogs and Cats