'In the Spotlight' features bring together collections of published papers on topics of interest and importance to the veterinary professions.
If you would like to suggest a paper for inclusion in one of our published Spotlight features, or a topic for a future Spotlight feature, please email library@rcvsknowledge.org
Alabama rot or cutaneous and renal glomerular vasculopathy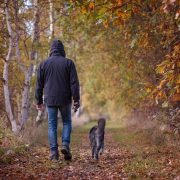 Alabama rot, also known as cutaneous and renal glomerular vasculopathy (CRGV), was originally identified in greyhounds in Alabama, USA in the 1980s. Since 2012, CRGV has been observed in a range of dogs in the UK, It is a potentially fatal disease affecting dogs, which causes damage to the blood vessels of the skin and kidneys. It is often associated with sudden onset kidney failure and characterised by ulceration of the distal extremities in dogs. Skin lesions, typically appearing as ulcers or erosions on the distal limbs, ventrum or oral cavity/muzzle, commonly appear less than a week before clinical signs attributable to acute kidney injury (AKI) develop. However, there also appears to be a subset of dogs that develop a skin lesion(s) without ever developing azotaemia (non-azotaemic CRGV).
CRGV appears to be a disease with a seasonal distribution, with most cases being identified between November and May suggesting a possible Winter/Spring seasonality. On this basis, it is possible that there is an environmental trigger; however, this is unlikely to be the full story and it is possible that certain dogs are predisposed to developing the disease; some of the more commonly affected breeds include the English Springer Spaniel, Labrador Retriever and Hungarian Vizsla.
The aetiology of CRGV remains unknown at this time and common causes of AKI should be considered and excluded when presented with a dog that may be suffering from CRGV.
The disease has been under investigation by Anderson Moores Veterinary Specialists (working closely with a number of other organisations) for almost 3 years. Advice, updates and information concerning CRGV are available to vets on their website.
Stevens, K.B. et al. (2018) Spatiotemporal patterns and agroecological risk factors for cutaneous and renal glomerular vasculopathy (Alabama Rot) in dogs in the UK. Veterinary Record, 183 (16), pp. 502 [Available on free access, accessed 26/10/2018]
Skulberg, R. et al. (2018) Description of the use of plasma exchange in dogs with cutaneous and renal glomerular vasculopathy. Frontiers in Veterinary Science, 19 July 2018 [Available on open access, accessed 31/7/2018]
Vessieres, F. and Walker, D.  (2018) Cutaneous & renal glomerular vasculopathy in a Springer Spaniel. Clinician's Brief, 16(6), pp. 31-34 [Available free online, accessed 28/6/2018]
Woodmansey, D. (2018) UK cases of Alabama rot hit all-time high. Veterinary Times, 48 (24), pp. 1
Laura Holm (2018) Cutaneous and renal glomerular vasculopathy. BSAVA Companion, 1, pp. 39
Holm, L. and Walker, D. (2018) Diagnosing and managing AKI caused by CRGV. Part 2. Veterinary Times, 49 (21), pp. 16-20
Holm, L. and Walker, D. (2018) Alabama rot: update on UK cases. Part 1. Veterinary Times, 48 (5), pp. 10-11
Carpenter, J.L. et al. (1988) Idiopathic cutaneous and renal glomerular vasculopathy of greyhounds. Veterinary Pathology, 25 (6), pp. 401-407
Hertzke, D.M. et al. (1995) Glomerular ultrastructural lesions of idiopathic cutaneous and renal glomerular vasculopathy of greyhounds. Veterinary Pathology, 32 (5), pp. 451-459
Holm, L.P. et al. (2015) Cutaneous and renal glomerular vasculopathy as a cause of acute kidney injury in dogs in the UK. Veterinary Record, 176, 384. [Available on open access, accessed 20/6/2018]
More references are available to download:

https://infocus.rcvsknowledge.org/wp-content/uploads/2018/06/man-and-dog-walking.jpg
426
640
Myai Du
Myai Du
2018-07-10 15:48:42
2021-09-17 11:35:03
Alabama rot or cutaneous and renal glomerular vasculopathy