"Just old age" – a qualitative investigation of owner and veterinary professional experiences of and attitudes to ageing in dogs in the UK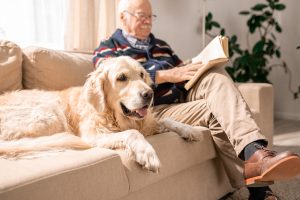 Author(s):
Wallis, L.J., Radford, A.D., Belshaw, Z., Jackson, J., Kubinyi, E., German, A.J. and Westgarth, C.
Published in:
Date:
March 2023
DOI:
Type of access:
Wallis, L.J. et al. (2023) "Just old age" – a qualitative investigation of owner and veterinary professional experiences of and attitudes to ageing in dogs in the UK . Journal of Small Animal Practice
The aim of this study was to use qualitative research methods to investigate owner and veterinary professional (VP) experiences and attitudes to ageing in dogs, including decisions around preventive health care, and understanding of healthy and pathological changes during ageing. It also aimed to discover how senior dog preventative health care or treatment advice is currently offered in UK veterinary practices, which health conditions and clinical signs are of primary concern to owners and VP and what the barriers are to delivery of senior dog health care.
Study participants were recruited via social media and press releases during June and December 2020. Online semi-structured interviews were carried out with 15 owners of 21 dogs and 11 VP (eight veterinary surgeons, two veterinary nurses and one physiotherapist).
Dog owners (DO) were asked for their views on what it is like to live with, and care for, an older dog. VP were asked about the preventive healthcare advice they offered, their views on the effectiveness of senior wellness clinics, the approaches used to discuss age-related changes with owners, and the most important challenges and barriers to senior dog care in practice. Sixty-one DOs submitted one photo or video that showed an important aspect of living with and caring for a senior dog along with a commentary on what the media capture and why they though it was important.
Four key themes were identified: 'just old age', barriers to care, trust in veterinary surgeons, and tools to improve healthcare. Dog owners mostly perceived age-related changes as 'just old age' and did not consider vaccination and regular check-ups as important unless a specific problem had been identified. The greatest barriers to healthcare for DOs was finance and for VPs owner awareness of issues, their willingness to act, and lack of consultation time. Both owners and professionals felt continuity of care with owners seeing the same veterinary professional led to greater trust and more effective client communication. Standardised tools and evidence-based online information that owners could use to assess their dogs on a regular basis were seen as one way of improving senior health care and communication between dog owner and veterinary professional.
Limitations of the study are potential selection bias as participants with an interest in the treatment and care of senior dogs were more likely to be involved, and the small number of study participants.
This study provides some evidence that increasing the opportunities for dog owners to improve their knowledge of what behavioural and physical signs represent "healthy" ageing could improve the health and welfare of senior dogs. The development of standardised tools that owners can use to assess their dog's health is seen as one way of improving the communication between owners and veterinary professionals.
One such tool is the:
BSAVA PetSavers ageing canine toolkit leaflet [BSAVA] [online] Available from: https://www.bsavalibrary.com/content/cil/cilgrouppetsaversact/petsavers-act-guide [Accessed 18 June 2023]
The following may also be of interest:
Hajzler, I., Nenadovic, K. and Vucinic, M. (2023) Health changes of old cats. Journal of Veterinary Behaviour, 63, pp. 16-21. https://doi.org/10.1016/j.jveb.2023.04.002
Claiming CPD for reading inFOCUS articles
Reading and reflecting on articles can count towards your CPD, and we have a template to help you with the process.
We encourage discussion on all material highlighted in each edition of inFOCUS. Use the button below to join the conversation on Twitter and include your comment in the feed for this issue.
Twitter feed is not available at the moment.
https://infocus.rcvsknowledge.org/wp-content/uploads/2023/06/Owner-sitting-next-to-dog.jpg
1672
2508
Myai Du
Myai Du
2023-06-19 09:50:43
2023-06-19 09:50:43
"Just old age" – a qualitative investigation of owner and veterinary professional experiences of and attitudes to ageing in dogs in the UK