Antibiotic therapy in dogs and cats in general practise in the United Kingdom before referral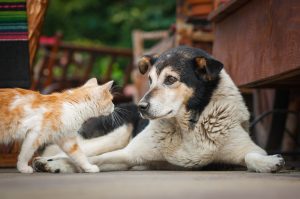 Author(s):
del Solar Bravo, R.E., Sharman, M.J., Raj, J. and Scudder, C.
Published in:
Date:
April 2023
DOI:
Type of access:
Requires membership/payment
This article can be accessed via RCVS Knowledge Library Membership (click here).
del Solar Bravo, R.E. et al. (2023) Antibiotic therapy in dogs and cats in general practise in the United Kingdom before referral Journal of Small Animal Practice.
The aim of this retrospective study was to assess the prescription of antibiotics in general practice in the United Kingdom before referral to Oncology and Internal Medicine departments for the condition the patient was referred for.  The secondary aim was to analyse whether the BSAVA/SAMSoc PROTECT and PROTECT ME Guidelines had been followed.
The clinical records of dogs and cats referred to the Internal Medicine of and Oncology departments of two UK referral hospitals between November 2016- February 2019 were reviewed to identify patients who had been prescribed antibiotics for the condition they were referred for.
Antibiotic use was analysed using the PROTECT and PROTECT ME Guidelines, with four ways that the guidelines were not followed investigated: evidence of underdosing, cycling of antibiotics, inappropriate use of fluoroquinolones or third and fourth generation cephalosporins, and whether antibiotics were prescribed when not indicated by UK guidelines.
A total of 917 (739 dogs, 178 cats) cases were reviewed, of these 486 (390 dogs, 96 cats) had received antibiotics before referral for the condition they were referred for. Bacterial culture and sensitivity had been performed in 8.8% animals and cytology in 1.9%. In four cases both cytology and culture were performed.
When considering the PROTECT/PROTECT ME guidelines 70.8% of prescriptions did not comply with the guidelines. Underdosing was recorded in 26.9%  cases and cycling antibiotics in 20.8% of cases. 18.7% cases were prescribed a fluoroquinolone or third generation cephalosporin, with inappropriate prescription of these two classes of antibiotics occurring in 89.0% of these cases. In 47.7% of cases antibiotics were prescribed for clinical signs where antibiotics are not recommended in the guidelines. Following investigations at the referral centre a bacterial aetiology was found or suspected in 17.9% of the cases that received antibiotics.
Limitations of the study include the retrospective nature, that the population had a referral bias and within that was limited to two specific disciplines, and that the data used was from 2016-2019. It is also possible that veterinary surgeons were following different guidelines that the two assessed.
Claiming CPD for reading inFOCUS articles
Reading and reflecting on articles can count towards your CPD, and we have a template to help you with the process.
We encourage discussion on all material highlighted in each edition of inFOCUS. Use the button below to join the conversation on Twitter and include your comment in the feed for this issue.
Twitter feed is not available at the moment.
https://infocus.rcvsknowledge.org/wp-content/uploads/2023/06/Cat-and-dog-together.jpg
1670
2512
Myai Du
Myai Du
2023-06-19 09:50:12
2023-08-05 12:34:10
Antibiotic therapy in dogs and cats in general practise in the United Kingdom before referral