Antimicrobial resistance in clinical bacterial isolates from horses in the UK.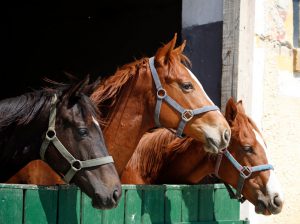 Isgren, C.M. et al (2022) Antimicrobial resistance in clinical bacterial isolates from horses in the UK. Equine Veterinary Journal, 54 (2), pp. 390– 414.
The aim of this prospective observational study was to describe the prevalence of bacteria most commonly isolated from clinical specimens and patterns of antimicrobial resistance (AMR) among bacterial isolates from equine samples sent to six UK diagnostic laboratories over a 12-month period. The hypothesis was that there would be an increased multidrug resistance from submissions from referral practices compared with first opinion practices.
Bacterial culture and antimicrobial susceptibility testing (AST) data from bacterial isolates from all clinical submissions received by the laboratories in 2018 were included. Microorganisms isolated from positive cultures were identified using commercial biochemical tests, which differed across the laboratories. AST was performed using either minimum inhibitory concentration (two laboratories) or Kirby-Bauer disc diffusion testing (four laboratories). Different breakpoints and antimicrobial susceptibility panels were used among the six laboratories.
Sample sites were categorised as follows: (i) respiratory tract/guttural pouch, (ii) urogenital, (iii) skin/hair/wound/abscess, (iv) surgical site infection (SSI)/catheter-related infection (CRI) /orthopaedic infections and (v) other or absent. Resistance patterns were analysed as follows: broadly susceptible, resistant to one or two antimicrobial classes, multidrug-resistant (MDR), extensively drug-resistant and no readily available treatment for adult horses in the UK. Submitting practices were classified as referral or first opinion.
A total of 6,018 bacterial isolates from 4,038 diagnostic submissions were included, from 208 veterinary practices. The isolates were categorised as follows: respiratory (n = 1,555), urogenital (n = 1,010), skin/hair/wound/abscess (n = 753), surgical site infection/catheter-related-infection/orthopaedic infections (n = 347) and unknown/'other' submissions (n = 373). Of the 3,926 submissions where practice details were included, 2,008 were referral submissions and 1,918 first opinion.
Resistance patterns were analysed by sampling site and organism. Proportions of resistance varied significantly by sample sites, with SSI/CRI and orthopaedic infections having a high prevalence of MDR. Prevalence of MDR for E. coli was 31.7% and Staphylococcus spp. 25.3%. For Enterococcus spp. there was no readily available treatment for adult horses in the UK in 30.2% of positive submissions. MDR was significantly higher in samples from referral hospitals than first opinion practices for the majority of pathogens. However, for Actinobacillus spp. and Pasteurella spp. and β-haemolytic Streptococcus spp., MDR was significantly higher in first opinion submissions.
Limitations of the study include the data for analysis came from different laboratories using different technical equipment and antimicrobial panels results, the pooling approach to reporting where some bacterial species were combined based on similarities in resistance patterns, and the use of different AST methods and clinical breakpoints. There was also inherent selection bias associated with the clinical submissions, as infections that are not responding to treatments are more likely to be sampled.
The study provides some evidence about patterns of antimicrobial resistance in equine pathogens in the UK. The study highlights the importance of antimicrobial stewardship, judicious use of antimicrobials and standardisation of culture and susceptibility testing to support AMR surveillance. Data on the different resistance patterns between referral and first opinion settings provides useful information for the implementation of biosecurity measures. Ongoing studies are encouraged to detect any emerging AMR trends.
We encourage discussion on all material highlighted in each edition of inFOCUS. Use the button below to join the conversation on Twitter and include your comment in the feed for this issue.
Twitter feed is not available at the moment.
https://infocus.rcvsknowledge.org/wp-content/uploads/2022/04/Horses-in-a-stable.jpg
598
801
Myai Du
Myai Du
2022-04-27 10:19:14
2022-04-28 08:43:56
Antimicrobial resistance in clinical bacterial isolates from horses in the UK.