Outcomes of dogs undergoing surgery for gastric dilatation volvulus after rapid versus prolonged medical stabilization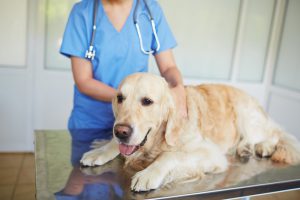 Author(s):
E. Lhuillery, L. Velay, S. Libermann, K. Le Boedec, A. Gautherot, L. Bonneau, E. Mongellas, K. Harris and S. Etchepareborde
Published in:
Date:
January 2022
DOI:
Type of access:
Requires membership/payment
This article can be accessed via RCVS Knowledge Library Membership (click here).
Lhuillery, E. et al (2022) Outcomes of dogs undergoing surgery for gastric dilatation volvulus after rapid versus prolonged medical stabilization. Veterinary Surgery.
The aim of this prospective study was to compare the outcomes of dogs with gastric dilatation volvulus (GDV) treated surgically after rapid versus prolonged stabilisation. The authors hypothesised that there would be similar mortality between the two groups.
The study was carried out at a veterinary hospital in France which had a protocol for treating GDV cases where dogs presenting at night were routinely stabilised overnight with decompression by trocarisation, placement of a nasogastric tube and administration of intravenous fluids. Surgery was then performed the next morning once a complete team, including a specialist surgeon, was available. Dogs presenting during the day underwent surgery following 90 minutes stabilisation using the same procedures.
Dogs presenting with GDV between January 2016 and October 2020 were enrolled into one of two groups: 'immediate' or 'delayed'. All dogs presenting between 8.00 am and 7.00 pm were allocated to the immediate group and taken to surgery after the initial 90-minute stabilisation period. Dogs presenting outside these hours were randomly allocated to either immediate or delayed. For the immediate group, interns initiated the 90-minute stabilisation so that the dog was ready for surgery when the on-call specialist arrived. Dogs allocated to the delayed group followed the same 90-minute stabilisation then received continuous intravenous fluids and oxygen therapy. Dogs in the delayed group were continuously monitored with electrocardiogram and blood pressure data recorded every hour.
All surgeries were performed by one of two experienced surgeons. The degree of gastric rotation, extent of visible gastric wall damage, anaesthesia and surgical time and survival to discharge were recorded. Some dogs were re-evaluated five and 15 days postoperatively at the authors' institution but most were seen by the referring veterinarian. A telephone conversation was held with all owners after one month.
A total of 162 dogs were included in the study: 89 dogs in the immediate group and 73 in the delayed group. Dogs in the immediate group underwent surgery after 90 minutes of medical stabilisation and surgery took place a median of 2.1 hours after presentation. For dogs in the delayed group, the median time between presentation and surgery was 9.8 hours. Duration of anaesthesia and duration of surgery and duration of hospitalisation did not differ between groups.
The overall survival rate was 80% (130/162) at discharge and 76% (123/162) one month postoperatively. There was no difference in survival rate between the immediate group (70/89) and delayed group (60/73) at discharge, or at one month postoperatively; in the immediate (68/89) and delayed (55/73) groups. Five dogs in the immediate group had a partial gastrectomy and three of those did not survive to discharge. Four dogs in the delayed group had a partial gastrectomy and three of those did not survive to discharge.
On multivariate analysis, hyperlactataemia 24 hours after commencing fluid therapy was associated with death prior to discharge and at one month postoperatively, and persistence of tachycardia during hospitalisation was associated with death at one month postoperatively.
Limitations of the study include only cases presenting out of hours were randomised and that the study was carried out in a referral hospital so it may not be generalisable to a primary care setting.
This study provides some evidence that with an efficient pre-operative stabilisation protocol, surgical treatment of gastric dilatation volvulus can be delayed with no effect on survival, meaning that cases could be managed differently depending on the availability of staff. Further research is required to investigate the potential risks and benefits of prolonged over rapid stabilization and to identify candidates for each approach.
We encourage discussion on all material highlighted in each edition of inFOCUS. Use the button below to join the conversation on Twitter and include your comment in the feed for this issue.
Twitter feed is not available at the moment.
https://infocus.rcvsknowledge.org/wp-content/uploads/2022/04/Dog-in-clinic-with-vet.jpg
565
848
Myai Du
Myai Du
2022-04-27 10:19:36
2022-04-28 08:46:23
Outcomes of dogs undergoing surgery for gastric dilatation volvulus after rapid versus prolonged medical stabilization