Comparison of 4 point-of-care techniques to detect correct positioning of nasogastric tubes in dogs (2020–2021)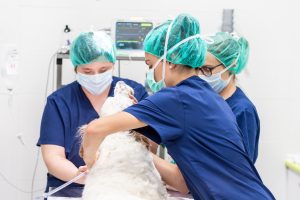 Author(s):
Ramesh, M., Brooks, A.C., Thomovsky, E., Johnson, P., Fulkerson, C., Parnell, N. and Weng, H.-Y.
Published in:
Date:
August 2023
DOI:
Type of access:
Requires membership/payment
This article can be accessed via RCVS Knowledge Library Membership (click here).
Ramesh, M. et al. (2023) Comparison of 4 point‐of‐care techniques to detect correct positioning of nasogastric tubes in dogs (2020–2021). Journal of Veterinary Emergency and Critical Care, 33 (5), pp. 501-508.
The aim of this prospective observational study was to determine the sensitivity and specificity of four point-of-care (POC) methods: air inflation of the stomach with auscultation for borborygmus, capnography, gastric fluid aspiration with pH measurement, and ultrasonography, to confirm correct nasogastric (NG) tube placement in dogs using 2-view thoracic radiographs as the reference standard. The author's hypothesised that ultrasound and capnography would have a high sensitivity and specificity, gastric aspiration with pH measurement would have a high specificity but poor sensitivity, and auscultation would have both poor sensitivity and specificity to determine correct NG tube placement.
The study was carried out at a university teaching hospital with any dog admitted to the hospital between July 2019 and July 2020 with anorexia ≥3 days or diseases known to benefit from early enteral nutrition eligible for inclusion, the target study population was 50 dogs.
NG tubes were placed using the standard hospital technique with the placers instructed to leave the tube in place after their first pass attempt unless the dog showed signs of distress that could be attributed to the tube placement. Once the tube was in place one of two trained observers assessed each POC method following standardised instructions. After all methods were assessed standard 2-view thoracic radiography was performed. The radiographs were reviewed to determine if the tube needed to be repositioned.
A total of 51 dogs were included in the study, for these 45/51 of the NG tubes were correctly placed based on the radiographs. The sensitivity, specificity, and accuracy for each POC method were: fluid aspiration with pH measurement (22.2%, 100%, and 31.4%, respectively), neck ultrasound (95.6%, 83.3%, and 94.1%), capnography (91.1%, 33.3%, and 84.3%), and air auscultation for borborygmus (84.4%, 50.5%, and 80.4%).
Limitations of the study are that in a number of cases tube placement and assessments were carried out by the same individual, the small study population and the small number of misplaced tubes, which may impact on the calculations of sensitivity and specificity.
Claiming CPD for reading inFOCUS articles
Reading and reflecting on articles can count towards your CPD, and we have a template to help you with the process.
Image copyright attribute: Copyright: herraez
https://infocus.rcvsknowledge.org/wp-content/uploads/2023/10/4_dog-in-surgery.jpg
1672
2509
Myai Du
Myai Du
2023-10-23 09:10:09
2023-10-23 09:36:13
Comparison of 4 point-of-care techniques to detect correct positioning of nasogastric tubes in dogs (2020–2021)