2022 ISFM consensus guidelines on management of the inappetent hospitalised cat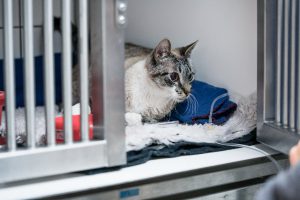 Author(s):
S. Taylor, D.L. Chan, C. Villaverde, L. Ryan, F. Peron, J. Quimby, C. O'Brien and S. Chalhoub
Published in:
Date:
July 2022
DOI:
Type of access:
Taylor, S. et al (2022) 2022 ISFM consensus guidelines on management of the inappetent hospitalised cat. Journal of Feline Medicine and Surgery, 24 (7), pp. 614-640.


The aim of these consensus guidelines is to provide information for practitioners on the general management of inappetence in hospitalised cats. They are based on the available literature, and the opinions and experiences of a panel of experts convened by the International Society of Feline Medicine (ISFM). Although three of the authors have links with a variety of pharmaceutical and pet food companies, none of the authors received any financial support for the research, authorship, and/or publication of this article.
The guidelines provide information to help practitioners identify hospitalised cats needing nutritional support and advice on how and when to intervene to avoid the negative consequences of inadequate nutrition. Topics covered include:
nutritional and energy requirements of cats
causes of inappetence and their general management considerations
nutritional support of hospitalised cats including:

optimising the clinical environment to encourage voluntary food intake
appropriate use of appetite stimulants
placement and management of feeding tubes
creating a feeding plan for the hospitalised cat
The guidelines are supported by a toolkit containing videos on the placement of feeding tubes and on supporting clients caring for cats with a feeding tube, as well as downloadable information sheets for owners.
Limitations of the guidelines include the lack of detail on the methodology used for the development of the consensus or any explicit grading of the published evidence.
These consensus guidelines provide practitioners with an overview of current knowledge on management of inappetence in hospitalised cats, as well as a toolkit of information sheets and videos. Management of the inappetent cat is multimodal and should comprise reduction of stress, medication, and assisted nutrition in the form of tube feeding or parenteral nutrition.
Claiming CPD for reading inFOCUS articles
Reading and reflecting on articles can count towards your CPD, and we have a template to help you with the process.
Image copyright attribute: kzenon
We encourage discussion on all material highlighted in each edition of inFOCUS. Use the button below to join the conversation on Twitter and include your comment in the feed for this issue.
Twitter feed is not available at the moment.