Equine allergic skin diseases: Clinical consensus guidelines of the World Association for Veterinary Dermatology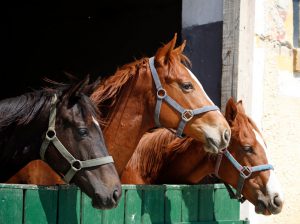 Marsella, R. et al. (2023) Equine allergic skin diseases: Clinical consensus guidelines of the World Association for Veterinary Dermatology. Veterinary Dermatology, 34 (3), pp. 175–208.
The aim of this consensus statement was to review the available literature on equine allergic skin diseases and to make recommendations based on best available evidence, where no studies were available recommendations are based on expert opinion.
The results of the review were presented at both the North America Veterinary Dermatology Forum and the European Veterinary Dermatology Congress in 2021. The report was also made available to  member organisations of the World Association for Veterinary Dermatology for feedback.
Information and recommendations, relating to the pathogenesis, diagnosis, treatment, and prevention of equine allergic skin diseases are given under the following headings:
Culicoides hypersensitivity
atopic dermatitis (AD)
food-induced dermatitis
chronic urticaria.
Findings from the evidence review showed that generally there is a limited amount of evidence-based information available. Much of the information available relates to insect bite hypersensitivity (IBH). The most documented effective treatment for IBH is insect avoidance strategy together with symptomatic therapy as required . Other findings included there is no evidence to support allergen-specific immunotherapy using commercial extracts of Culicoides, there is retrospective uncontrolled evidence for the beneficial effect of allergen-specific immunotherapy for AD, and cytokine vaccinations appeared to give relief to IBH and allergy-associated pruritus in horses.
Areas highlighted for further study include the role of skin barrier in equine allergies, therapeutic options for atopic and  IBH horses, the role of foods as triggers for pruritis,  and the factors involved in mast cell degranulation to improve the long-term management of chronic urticaria.
A full search strategy and methodology was not reported in the paper.
This consensus statement provides practitioners with an overview of the current knowledge of, and recommendations on, the diagnosis and management of equine allergic skin diseases. The information is clearly set out and would provide useful guidance for veterinary surgeons.
Claiming CPD for reading inFOCUS articles
Reading and reflecting on articles can count towards your CPD, and we have a template to help you with the process.
https://infocus.rcvsknowledge.org/wp-content/uploads/2022/04/Horses-in-a-stable.jpg
598
801
Myai Du
Myai Du
2023-08-20 19:17:28
2023-08-21 10:42:22
Equine allergic skin diseases: Clinical consensus guidelines of the World Association for Veterinary Dermatology