Epidemiology of mammary tumours in bitches under veterinary care in the UK in 2016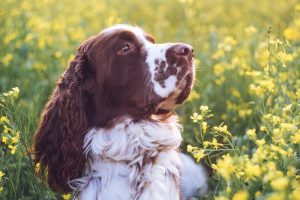 Author(s):
Varney, D., O'Neill, D., O'Neill, M., Church, D., Stell, A., Beck, S., Smalley, M.J. and Brodbelt, D.
Published in:
Date:
May 2023
DOI:
Type of access:
Varney, D. et al. (2023) Epidemiology of mammary tumours in bitches under veterinary care in the UK in 2016. Veterinary Record, e3054.
The aim of this nested case-control study was to evaluate the epidemiology of mammary tumours in bitches attending primary care practice in the UK. The objectives were to estimate the incidence, prevalence and risk factors associated with mammary tumours in bitches. The authors hypothesised that increasing age and purebred compared to crossbred bitches would be associated with an increased risk of mammary tumours.
Two separate case-control studies were undertaken. The VetCompass study included 222 bitches that were at least 4 years old when diagnosed with mammary tumours between 1 January and 31 December 2016.  Candidate cases were identified by searching for both a mammary and tumour term in the clinical notes. The control group consisted of 1515 randomly selected from bitches that were aged four years and older old on 30 June 2016 without evidence of mammary tumours in their patient record. This study explored the frequency and risk factors for clinically diagnosed mammary tumours. Pre-existing cases were also identified in order to calculate prevalence, where prevalent cases were defined as bitches diagnosed with mammary tumours both before and during 2016.
The laboratory study used  915 cases which were bitches aged 4 years or above at the date of a laboratory-confirmed diagnosis of mammary tumour between January 2009 and December 2019. For this study cases were compared to the VetCompass controls to explore breed associations.
An annual prevalence risk of 1901.0/100,000 bitches per year and an annual incidence risk of 1340.7/100,000 bitches per year were estimated.
In the VetCompass study neutering was associated with reduced odds of mammary tumours. Increasing age and a history of pseudopregnancy were associated with increased odds. Lhasa Apso, English Springer Spaniel, Boxer, English Cocker Spaniel and Staffordshire Bull terrier were all associated with increased odds of mammary tumours compared to crossbreeds. In the laboratory study 195 (21.3%) were mammary carcinomas and 720 (78.7%) were adenomas, increasing age and a number of breeds, although this did not include the Staffordshire Bull terrier, were associated with greater odds of mammary tumours.
Limitations of the study include the possibility of missing information in the clinical notes and possible misclassification of mammary tumours in cases not confirmed histologically. There was a possibility of selection bias in the cases submitted for histology in the laboratory cases, and these were compared to controls from a different population. It should also be noted that for some breeds the numbers were small which may have impacted the breed analysis.
Claiming CPD for reading inFOCUS articles
Reading and reflecting on articles can count towards your CPD, and we have a template to help you with the process.
Image copyright attribute: lusya
https://infocus.rcvsknowledge.org/wp-content/uploads/2023/08/English-Springer-Spaniel.jpg
400
600
Myai Du
Myai Du
2023-08-20 19:17:48
2023-08-21 19:20:58
Epidemiology of mammary tumours in bitches under veterinary care in the UK in 2016