Feline blood pressure measurement: when is it needed?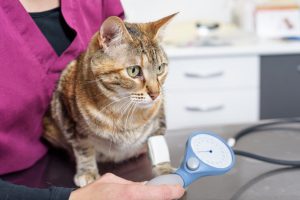 Author(s):
S. Caney
Published in:
Date:
December 2021
DOI:
Type of access:
Requires membership/payment
This article can be accessed via RCVS Knowledge Library Membership (click here).
Caney, S. (2021) Feline blood pressure measurement: when is it needed? Companion Animal, 26 (11), pp. 222-228. https://doi.org/10.12968/coan.2021.0063
This clinical review article provides a clear overview of systemic hypertension and blood pressure measurement in the cat.
The article starts with a summary of the target organ damage that may be associated with systemic hypertension and links this to recommendations for when to measure blood pressure.
The next section provides details of how to minimise stress, both during transport and at the veterinary clinic, to minimise the effect of 'situational hypertension', or the 'white coat effect', and obtain reliable measurements. This includes a useful table on the characteristics of a suitable cat carrier, which could be useful in providing advice to owners.
This is followed by practical tips on how to take and interpret blood pressure measurements, although it refers the reader elsewhere for a more detailed description.
This is a clear review paper providing practical advice on blood pressure measurement in cats which   could be of use to the whole practice team.
The following resources may also be of interest:
Acierno, M.J. et al (2018) ACVIM consensus statement: Guidelines for the identification, evaluation, and management of systemic hypertension in dogs and cats. Journal of Veterinary Internal Medicine, 32 (6), pp. 1803-1822. https://doi.org/10.1111/jvim.15331
Taylor, S.S. et al (2017) ISFM consensus guidelines on the diagnosis and management of hypertension in cats. Journal of Feline Medicine and Surgery, 19 (3), pp. 288–303. https://doi.org/10.1177%2F1098612X17693500
We encourage discussion on all material highlighted in each edition of inFOCUS. Use the button below to join the conversation on Twitter and include your comment in the feed for this issue.
Twitter feed is not available at the moment.
https://infocus.rcvsknowledge.org/wp-content/uploads/2022/02/cat_blood-pressure.jpg
565
847
Myai Du
Myai Du
2022-02-22 08:59:15
2022-02-22 08:59:15
Feline blood pressure measurement: when is it needed?