Incidence of and risk factors for surgical site infection following canine limb amputation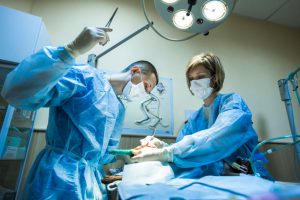 Author(s):
A.R. Billas, J.A. Grimes, D.L. Hollenbeck, V.M. Dickerson, M.L. Wallace and C.W. Schmiedt
Published in:
Date:
April 2022
DOI:
Type of access:
Requires membership/payment
This article can be accessed via RCVS Knowledge Library Membership (click here).
Billas, A.R. et al (2022) Incidence of and risk factors for surgical site infection following canine limb amputation. Veterinary Surgery, 50 (3), pp. 418– 425.
The objective of this retrospective study was to identify the prevalence of postoperative surgical site infection (SSI) and risk factors for SSI in dogs following limb amputation.
The medical records of two veterinary teaching hospitals in the US from 2012 to 2020 were reviewed for dogs that had thoracic or pelvic limb amputations with a minimum of 30 days postoperative follow-up and/or SSI diagnosed prior to 30 days follow-up. Data on preoperative, intraoperative, and postoperative variables were collected, as well as the date of SSI diagnosis, infection characteristics, culture results if the dog had a bacterial infection, and the antibiotic administered.
Two hundred and forty-eight dogs were included in the study, from 62 breeds with a mean age of 7.7 ± 3.4 years. One hundred and fifty-five dogs (155/248) had forequarter amputation, 67/248 had coxofemoral disarticulation and 26/248 had transfemoral amputation. 238/248 of procedures were classified as clean.
The method of muscle transection were monopolar electrosurgery (160/248), sharp transection (90/248) and/or bipolar vessel sealing device (68/248), with some dogs having more than one method used.
Thirty-one dogs (31/248, 12.5%) developed an SSI of the amputation site, mean time until identification of an SSI was 11.2 days ± 6.2 days after surgery. Factors increasing the odds of SSI were muscle transection with a bipolar vessel sealing device (OR 2.5), a procedure classified as other than clean (OR 8.2) and indication for amputation of bacterial infection or trauma when compared to neoplasia (OR 5.7 and 4.5 respectively).
Limitations of the study related to the retrospective nature, with some information in the medical records incomplete or unclear. The fact that the dogs in the study were from referral hospitals could have introduced bias of more complex cases with a higher risk of infection. There was also a low number of recorded SSIs and amputation sites classified as contaminated or dirty.
The study provides some evidence of an association between the use of a bipolar sealing device for muscle transection and SSIs. Electrosurgery or sharp transection should therefore be considered over these devices to decrease the incidence of postoperative SSI post in canine limb amputations. Larger scale studies are encouraged.
We encourage discussion on all material highlighted in each edition of inFOCUS. Use the button below to join the conversation on Twitter and include your comment in the feed for this issue.
Twitter feed is not available at the moment.
https://infocus.rcvsknowledge.org/wp-content/uploads/2022/04/vet-operating-on-a-dog.jpg
565
848
Myai Du
Myai Du
2022-04-27 10:17:23
2022-04-27 17:06:38
Incidence of and risk factors for surgical site infection following canine limb amputation