Veterinarians' experiences of treating cases of animal abuse: An online questionnaire study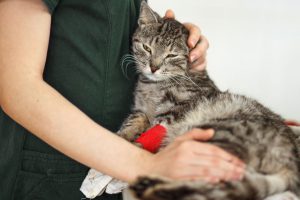 Author(s):
J.M. Williams, L. Wauthier, Scottish SPCA and M. Knoll.
Published in:
Date:
December 2022
DOI:
Type of access:
Williams, J.M. et al. (2022) Veterinarians' experiences of treating cases of animal abuse: An online questionnaire study. Veterinary Record, 191(11), p. e1975.  
The aim of this retrospective, cross-sectional online survey study was to explore veterinary surgeons' experiences of animal abuse in the last 12 months, as well as  perceptions around support needs and barriers to reporting.
The survey was open to all qualified veterinary surgeons in a clinical practice with companion animals. It was promoted on social media channels, websites, and animal welfare organisations, and ran from June to December 2019. It included questions on the experience of nonaccidental injuries (NAI) seen in the last 12 months and, where applicable, the type of injury and type of animal involved. The survey also asked respondents to estimate how many cases of animal abuse they had seen during their careers and to provide information on up to three specific cases. Finally, questions were asked about veterinary surgeons' roles and responsibilities in reporting animal abuse and barriers to reporting.
There were 215 responses, of which 161 were females and 185 were from the UK. Of these, 112 worked in corporate practice and 104 in urban settings.
Almost all 210/215) respondents agreed that animals can be abused and 113 reported having to having seen or suspected an NAI in the last 12 months. Twenty-seven respondents reported that they had never treated an abuse case during their whole career and 102 veterinary surgeons reported treating more than six cases, with the median range being one to five abuse cases.
There was a significant difference in the number of NAIs reported over the last year between different types of practices, with those working in charity and independent practices reporting significantly more NAI cases than those working in corporate settings.
Looking at the previous 12-month period, the most common form of abuse was neglect, followed by injuries from gunshots, bruising, and fractures. Dogs were the most common type of animal identified as victims of abuse, followed by cats and rabbits.
The case studies of abuse provided by the respondents mostly related to dogs and physical abuse. Whilst in these case studies neglect was less common, it more often resulted in death.
Respondents were concerned about animal abuse but varied in their confidence to intervene and cited a number of different barriers to reporting, including legal concerns relating to breaking client confidentiality and litigation, lack of knowledge and resources, compromising the safety of the client, inexperience of dealing with abuse cases, perception that no action will be taken, personal safety and client loss.
Limitations of the study include potential selection bias as survey respondents were self-selecting and the potential for recall bias of case details. The sample size was relatively small and overrepresented by UK and female participants; therefore findings may not be generalisable to the whole veterinary community.
Claiming CPD for reading inFOCUS articles
Reading and reflecting on articles can count towards your CPD, and we have a template to help you with the process.
We encourage discussion on all material highlighted in each edition of inFOCUS. Use the button below to join the conversation on Twitter and include your comment in the feed for this issue.
Twitter feed is not available at the moment.
https://infocus.rcvsknowledge.org/wp-content/uploads/2019/02/Cat-with-red-bandage.jpg
565
848
Myai Du
Myai Du
2023-01-11 13:14:32
2023-01-11 15:18:32
Veterinarians' experiences of treating cases of animal abuse: An online questionnaire study