Type and impact of clinical incidents identified by a voluntary reporting system covering 130 small animal practices in mainland Europe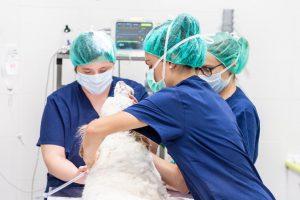 Author(s):
L. Schortz, L. Mossop, A. Bergström and C. Oxtoby
Published in:
Date:
April 2022
DOI:
Type of access:
Schortz, L. et al. (2022) Type and impact of clinical incidents identified by a voluntary reporting system covering 130 small animal practices in mainland Europe. Veterinary Record, e1629.
The aim of this study, which was funded by the AniCura Group, was to analyse voluntary reports relating to potentially harmful patient safety incidents, gathered from a large European multi-practice small animal veterinary organisation between April 2018 and September 2020, and to increase the understanding of how such data can assist organisations to reduce the risk of incidents occurring.
The incident reporting system was developed as part of an organisational strategy of quality improvement and patient safety. It is structured to collect data according to the definitions in the World Health Organisation Framework for International Classification of Patient Safety and contains both mandatory and optional fields, with country, practice and author captured automatically. The system has three levels: the first collects information about the incident, the second covers an investigation of the incident, and the third is a review of implemented actions and effectiveness of the changes. This study analysed data collected from the first level of this process.
A total of 2,155 incident reports from 130 different practices in seven countries were reported during the study period, of which 1,387 related to patient safety and were included in the analysis.
Incidents caused harm in 42% of reports, of these 48% of the incidents caused harm in cats and 39% in dogs.  Medication-related incidents were the most commonly reported, representing 40% of the total reports analysed.  Of these, 27% caused harm and less than 1% caused death. The three most common types of medication errors were wrong dose or dosing frequency, failure to administer or omitting a dose, and wrong drug used. Forty per cent of incidents occurred in the hospital ward.
Anaesthesia-related incidents were the most severe, with 18% of these incidents resulting in patient death. In these incidents, the degree of patient harm was significantly higher in cats compared to dogs.
Limitations of the study include possible subjectivity and reporting bias that is inherent in voluntary reporting systems and the possibility that incidents occurring during care would be under-reported due to the sensitive nature of these incidents. No UK practices were included in the study.
This study provides evidence of the types of patient safety incidents which occurred in small animal practices from a single European veterinary organisation. It highlights the benefits that reporting clinical incidents could have in identifying recurrent problems which would then enable preventative measures and systems to be put in place. Further research is needed to explore the study's finding that incidents were more likely to cause harm in cats than dogs.
We encourage discussion on all material highlighted in each edition of inFOCUS. Use the button below to join the conversation on Twitter and include your comment in the feed for this issue.
Twitter feed is not available at the moment.
https://infocus.rcvsknowledge.org/wp-content/uploads/2022/06/Dog-in-surgery.jpg
565
848
Myai Du
Myai Du
2022-06-28 14:41:31
2022-06-28 15:23:57
Type and impact of clinical incidents identified by a voluntary reporting system covering 130 small animal practices in mainland Europe