Prevalence and clinical significance of heart murmurs detected on cardiac auscultation in 856 cats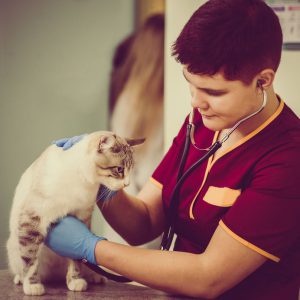 Author(s):
L. Ferasin, H. Ferasin, A. Cala and N. Creelman
Published in:
Date:
October 2022
DOI:
Type of access:
Ferasin, L. et al. (2022) Prevalence and clinical significance of heart murmurs detected on cardiac auscultation in 856 cats. Veterinary Sciences, 9 (10), p. 564.
The aim of this retrospective study was to identify the prevalence and clinical significance of heart murmurs detected during routine physical examinations in cats. In addition, the study sought to determine the echocardiographic identification of the flow turbulence responsible for the murmurs and to identify patient and murmur characteristics that might predict a diagnosis of significant congenital or acquired cardiac disease.
The clinical records and echocardiographic examinations performed on cats for diagnostic investigation of a heart murmur at two UK referral centres between June 2009 and June 2022 were reviewed. Cats were excluded if there was incomplete clinical information or if the full echocardiographic examination was not available.
A total of 856 cases were included in the study. The electrocardiographic findings revealed that 91.4% of cats sustained normal sinus rhythm. The majority (98.7%) of the heart murmurs were systolic, 56.7% of cats displayed a soft murmur, and the point of maximal intensity was described as sternal (or 'both parasternal') in 38.3% of cases.
The cause of the heart murmur was identified in 93.1% of cases, with a single blood flow turbulence identified in 72.3% of these cases. 26.4% of cases had two identifiable causes of murmur and 1.3% had three identifiable causes.
The most common cause of heart murmur was systolic anterior motion of the mitral valve (SAM) (39.2%), followed by dynamic right ventricular outflow tract obstruction (DRVOTO, 32%), and flow murmurs (6.9%). Murmurs in 56.7% of cats were not associated with any structural cardiac abnormality. 56.1% of cats with SAM and 85% of cats with DRVOTO did not display any structural abnormalities on echocardiographic examination.
Limitations of the study were its retrospective nature, that information on the use of cardioactive drugs was not available in many cases, and that different clinicians carried out the diagnosis and management of the included cases which may have affected the results. The study was carried out at referral practices; therefore, the study population may not be representative of that seen in first opinion practice.
Take home
The study provides some evidence that while some heart murmur characteristics (timing, intensity, and location) can only occasionally discriminate between normal cats and cats with underlying cardiac disease, those with loud (mostly systolic) and palpable murmurs are inevitably associated with significant heart disease. These findings will help veterinary surgeons discuss the prognostics of heart murmurs found in cats on clinical examination.
The following may also be of interest:
Little, C.J.L. et al. (2014) Purring in cats during auscultation: how common is it, and can we stop it? Journal of Small Animal Practice, 55 (1), pp.33-38. https://doi.org/10.1111/jsap.12159
Luis Fuentes, V. et al. (2020) ACVIM consensus statement guidelines for the classification, diagnosis, and management of cardiomyopathies in cats. Journal of Veterinary Internal Medicine, 34 (3), pp.1062-1077. https://doi.org/10.1111/jvim.15745
Claiming CPD for reading inFOCUS articles
Reading and reflecting on articles can count towards your CPD, and we have a template to help you with the process.
We encourage discussion on all material highlighted in each edition of inFOCUS. Use the button below to join the conversation on Twitter and include your comment in the feed for this issue.
Twitter feed is not available at the moment.
https://infocus.rcvsknowledge.org/wp-content/uploads/2020/10/Cat-check-up-by-female-vet-in-clinic.jpg
692
692
Myai Du
Myai Du
2023-01-11 13:14:41
2023-01-11 13:14:41
Prevalence and clinical significance of heart murmurs detected on cardiac auscultation in 856 cats