A novel tension relief technique to aid the primary closure of traumatic equine wounds under excessive tension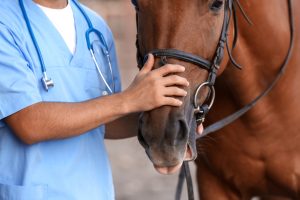 Author(s):
Comino, F., Pollock, P.J., Fulton, I., Hewitt-Dedman, C., Handel, I. and Gorvy, D.A.
Published in:
Date:
August 2023
DOI:
Type of access:
Requires membership/payment
This article can be accessed via RCVS Knowledge Library Membership (click here).
Comino, F. et al. (2023) A novel tension relief technique to aid the primary closure of traumatic equine wounds under excessive tension. Equine Veterinary Journal.
The aim of this retrospective case series was to describe the use of the Tension Tile System (TTS); a novel tension relief technique to help primary healing of a variety of equine wounds.
The patient records of four equine hospitals, in Sweden, the UK, and Australia, were reviewed for horses that presented with traumatic wounds that were treated using the TTS between March 2017 and December 2021.
A total of 191 horses met the inclusion criteria. Wounds were categorised according to the following criteria: anatomical location, time elapsed prior to surgery, depth of wound, complicating factors and use of immobilisation post-surgery.
All horses received the same pre-operative treatment, and wounds and all wounds were debrided by sharp surgical dissection. Both NSAIDs and antimicrobials were prescribed postoperatively.
The TTS technique used the plastic backing of standard sterile suture pack as an attachment plate (Tension Tile, TT), a sterile foam dressing with silicon adhesive was cut to shape and affixed to the TT. The TTs were placed using the same technique and all surgical procedures were performed by three registered specialist surgeons.
Primary wound healing was subjectively evaluated two weeks post-surgery after the removal of sutures and TTs, using photographs and descriptions of the wound in the records. The wounds were divided accordingly into three groups: Group A (no dehiscence), Group B (partial dehiscence, <40% of wound length), and Group C (severe dehiscence, >40%of wound length).
Healing with zero dehiscence (Group A) was achieved in 132/191 cases. Partial dehiscence (Group B) in 30/191 cases and severe dehiscence (Group C) in 29/191 cases.  In Group A 48% of patients presented within 24 hours of injury, primary closure was achieved in 67% of these wounds. The success of primary healing in ponies was 23/26 and in horses 109/165.
Primary healing was achieved in 75% of proximal limb wounds, 74% on the carpus, 71% on the body, 76% on the distal limb, 65% on the tarsus, and 50% on the head/neck. The median convalescence time in Group A was four weeks, 7 weeks in Group B and 10 weeks in Group C.
Limitations of the study include the retrospective nature and the subjective assessment of wound dehiscence.
This study provides evidence that the Tension Tile System is an economical and effective tension relief technique, which assists in the successful closure of traumatic equine wounds under tension in a variety of anatomical locations.  Further studies that objectively evaluate the TTS in comparison to other techniques are required.
The following may also be of interest:
Freeman, S.L. et al. (2020) BEVA primary care clinical guidelines: Wound management in the horse. Equine Veterinary Journal, 53 (1), pp. 18-29. https://doi.org/10.1111/evj.13289.
The August 2020 edition of inFOCUS contains a summary of this paper.
Claiming CPD for reading inFOCUS articles
Reading and reflecting on articles can count towards your CPD, and we have a template to help you with the process.
https://infocus.rcvsknowledge.org/wp-content/uploads/2023/10/1_horse-and-vet.jpg
1672
2508
Myai Du
Myai Du
2023-10-23 09:10:53
2023-10-23 09:23:49
A novel tension relief technique to aid the primary closure of traumatic equine wounds under excessive tension