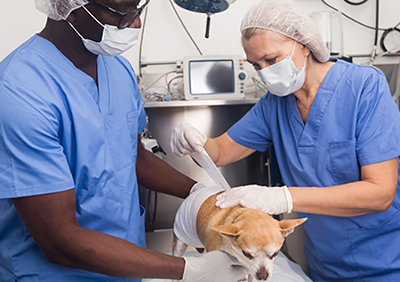 'In the Spotlight' features bring together collections of published papers on topics of interest and importance to the veterinary professions.
Papers are chosen for relevance and accessibility, with the full text of articles either being available through the RCVS Knowledge Library, on open access or from other publications to which a significant number of veterinary professionals are likely to have access. This means that there may be relevant evidence that is not included. If you would like assistance in searching for further evidence on this topic you may find the following helpful EBVM Toolkit 2: Finding the best available evidence.
If you would like to suggest a paper for inclusion in one of our published Spotlight features, or a topic for a future Spotlight feature, please email library@rcvsknowledge.org
Benefits and risks of neutering pets – what is the evidence?
Published 26 November 2020 | Updated 21 July 2023
Neutering is seen as a routine procedure for domestic pets in many countries and is promoted as part of responsible pet ownership and the primary means of population control. However, there is significant variation between countries, with some actively promoting neutering, for example through reduced licence fees for neutered dogs, while others, notably those in Northern Europe, consider the procedure of removing body parts during neutering to be a mutilation unless carried out for the treatment of disease.
Historically, the routine neutering of pets was justified as having health benefits for the individual animal alongside the benefits to the owner in terms of reducing unwanted behaviour, as well as benefits to society in terms of reducing unintended breeding and stray animals.
However, as veterinary knowledge has increased, it has become clear that neutering may carry risks as well as benefits for the individual animal and is not a panacea for all behaviour problems. This has led veterinary associations such as the BSAVA and AVMA to make statements to the effect that decisions regarding the elective neutering of pets should be made on a case by case basis. The evidence of risks and benefits of neutering should be weighed, considering the most appropriate timing and methods based on available evidence and discussion with the owner.
The purpose of this collection is to provide you with easy access to some of the available evidence, focusing on some of the most frequent areas of concern. This is not intended to be a comprehensive review of the literature, but rather a selection of references to inform your discussions with owners and guide your decision making regarding the elective neutering of pets.
New evidence is being published all the time, so you may wish to search for and critically appraise papers to answer a specific question about neutering. If so, RCVS Knowledge has developed an EBVM Toolkit to help you.
Published 26 November 2020 | Updated 14 April 2021
Published 26 November 2020 | Updated 5 January 2022
Published 26 November 2020 | Updated 29 September 2023
Published 26 November 2020 | Updated 16 May 2023
Published 26 November 2020 | Updated 21 July 2023
Published 26 November 2020 | Updated 26 April 2023
Published 26 November 2020
Published 26 November 2020 | Updated 21 July 2023
Published 26 November 2020 | Updated 21 July 2023
Published 26 November 2020 | Updated 23 September 2022
https://infocus.rcvsknowledge.org/wp-content/uploads/2020/11/vets-examine-a-dog-in-clinic_400.jpg
282
400
Myai Du
Myai Du
2020-11-27 15:08:31
2023-09-29 09:47:35
Benefits and risks of neutering pets - what is the evidence