Dog owners' perspectives on canine dental health-a questionnaire study in Sweden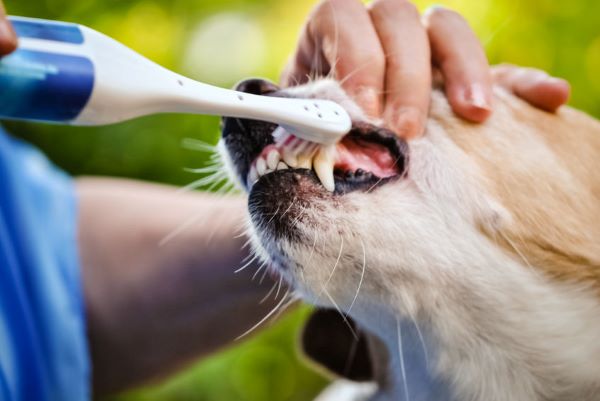 Author(s):
K.B. Enlund, C. Brunius, J. Hanson, R. Hagman, O.V. Höglund, P. Gustås and A. Pettersson
Published in:
Date:
June 2020
DOI:
Type of access:
Enlund K.B. et al. (2020) Dog owners' perspectives on canine dental health-a questionnaire study in Sweden. Frontiers in Veterinary Science, 7:298.
The aim of this study was to investigate dog owners' opinions, and assessment, of their dog's dental health. Additionally, the study considered associations between perceived dental problems and specific non-dental diseases.
The study was carried out as part of a wider study looking at canine dental home care. The target group for this study was all dog owners in Sweden whose email addresses were registered with the Swedish Kennel Club or the Swedish Board of Agriculture. The link to the web-based questionnaire was distributed by email, with follow up emails to non-respondents sent after 8 and 17 days. The questionnaire consisted of between 54 and 68, mainly closed, questions depending on answers given. Data was collected in April 2017.
The questionnaire link was sent to 209,263 email addresses. There were 66,434 responses, from which those with > 20% missing data were excluded, leaving a total of 59,978 responses for analysis. Results showed 78% of owners described their dog's overall health as very good and 50% described their dog's dental health as very good. 80.2% of owners considered their dog's dental health to be very important. One in four owners reported sometimes or always experiencing difficulties when inspecting dogs teeth. The most common reasons given for these difficulties were uncooperative dog and practical/technical difficulties.
In terms of dental health, 47.7% of owners reported some degree of halitosis and 37.3% the presence of calculus. Of the owners who cleaned their dog's teeth , 34.7% reported occasional oral bleeding. 13.1% of dogs had previously been anaesthetised for dental cleaning and 7.7% of dogs had experienced gum disease.
Limitations of the study include possible selection bias for respondents, owners with previous experience or interest in dental disease may be more likely to respond. In addition, dental health disease assessments made by the owners could not be validated.
This study uses a large population of dogs to give useful data on owner assessment of dental health, with most owners able to undertake a basic assessment of their dog's dental health. The known high prevalence of dental disease, the low reported frequency of professional dental cleaning, and the difficulties owners reported in inspecting their dog's teeth highlights the need for education of owners and training of dogs to accept dental home care.
The authors have also published a companion paper looking at preventative dental home care in dogs. Taken together, these provide useful information which could be used as a basis for providing advice to owners in this area.
Companion paper
Enlund K.B. et al. (2020) Dental home care in dogs – a questionnaire study among Swedish dog owners, veterinarians and veterinary nurses. BMC Veterinary Research, 16(1):90. https://doi.org/10.1186/s12917-020-02281-y
Image copyright attribute: thamkc
We encourage discussion on all material highlighted in each edition of inFOCUS. Use the button below to join the conversation on Twitter and include your comment in the feed for this issue.
Twitter feed is not available at the moment.
https://infocus.rcvsknowledge.org/wp-content/uploads/2020/08/brushing-dog-teeth.jpg
401
600
Myai Du
Myai Du
2020-08-26 07:45:09
2020-08-26 09:38:20
Dog owners' perspectives on canine dental health-a questionnaire study in Sweden