Efficacy and safety of an anti-nerve growth factor antibody (frunevetmab) for the treatment of degenerative joint disease-associated chronic pain in cats: A multisite pilot field study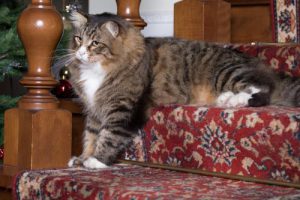 Author(s):
M.E. Gruen, J.A.E. Myers and B. D. X. Lascelles
Published in:
Date:
May 2021
DOI:
Type of access:
Gruen, M. E, Myers, J.A. E. and Lascelles, B.D.X (2021) Efficacy and safety of an anti-nerve growth factor antibody (Frunevetmab) for the treatment of degenerative joint disease-associated chronic pain in cats: a multisite pilot field study. Frontiers in Veterinary Science, 8, no 404.
The aim of this randomised placebo-controlled, double-blinded trial was to evaluate the safety and efficacy of two administration routes of frunevetmab compared to placebo in the treatment of degenerative joint disease (DJD)-associated pain in client-owned cats. The study, which received funding from Zoetis, was carried out at 15 small animal clinics in the United States. Client-owned cats over six months of age, weighing ≥ 2.5 kg and living exclusively indoors, were eligible for inclusion if they had clinical signs of DJD noted by the owner, pain in at least two joints confirmed by examination by a veterinarian, and radiographic evidence of DJD in at least two of the joints where pain was detected.
Included cats were randomly allocated to one of three treatment groups. All cats received two injections, 28 days apart. Group 1 received frunevetmab intravenously (IV) then subcutaneously (SC), Group 2 received frunevetmab twice SC and Group 3 received the placebo control IV then SC. Outcome measures included changes in owner assessments (days 0, 14, 28, 42 and 56), objectively measured activity (accelerometry) collected throughout the study period, and veterinary orthopaedic examinations (days 28 and 56). A total of 126 cats were included in the study: 42 in Group 1; 43 in Group 2, and 41 in Group 3. Twelve cats did not complete the study (nine frunevetmab and three placebo) leaving a total of 117 cats for analysis. There was no meaningful difference between the two frunevetmab groups, so they were combined for analysis for most outcome measures.
Owner assessments reported a significant improvement in the frunevetmab groups when compared to the placebo group at days 42 and 56. However, there were no significant differences between treatment groups, upon veterinary orthopaedic examination, for the change in Total Pain score or the Total Joint Debility score on Days 28 or 56. All groups had decreased activity levels compared to baseline, indicating possible progression of disease, although this was less in the frunevetmab-treated cats, which had a mean decrease of 0.9% across the 8-week study period compared to placebo-treated cats with a mean decrease of 9.3%. Most adverse events were categorised as non-serious, with dermatitis/eczema related to the activity-monitor collars the most frequently reported across all groups.
Limitations of the study include the small sample size, the fact that many of the assessment criteria were subjective, the different levels of experience between the veterinarians' carrying out the orthopaedic examinations and that cats were not acclimatised to collars before baseline activity readings were taken.
This study provides some evidence for the use of frunevetmab for the treatment of pain associated with degenerative joint disease, including osteoarthritis, in cats and, as such, will be of interest to veterinary surgeons advising clients on the available therapies for their cats. However, further studies on this new product and comparisons with currently available treatments are required.
You may also be interested in two papers that have recently been published looking at the safety and efficacy of the anti-nerve growth factor bedinvetmab (Librela; Zoetis) for the treatment of pain associated with osteoarthritis in dogs.
Corral, M.J. et al (2021) A prospective, randomized, blinded, placebo-controlled multisite clinical study of bedinvetmab, a canine monoclonal antibody targeting nerve growth factor, in dogs with osteoarthritis. Veterinary Anaesthesia and Analgesia. https://doi.org/10.1016/j.vaa.2021.08.001
Krautmann, M. et al (2021) Laboratory safety evaluation of bedinvetmab, a canine anti-nerve growth factor monoclonal antibody, in dogs. The Veterinary Journal, 276, p.105733. https://doi.org/10.1016/j.tvjl.2021.105733
We encourage discussion on all material highlighted in each edition of inFOCUS. Use the button below to join the conversation on Twitter and include your comment in the feed for this issue.
Twitter feed is not available at the moment.
https://infocus.rcvsknowledge.org/wp-content/uploads/2021/08/cat-on-the-stairs_500.jpg
333
500
Myai Du
Myai Du
2021-08-25 07:07:23
2021-09-14 16:06:52
Efficacy and safety of an anti-nerve growth factor antibody (Frunevetmab) for the treatment of degenerative joint disease-associated chronic pain in cats: A multisite pilot field study