Evaluation of prescribing practices for gabapentin as an analgesic among veterinary professionals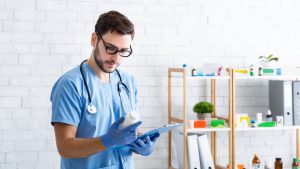 Author(s):
R. Reader, O. Olaitan and E. McCobb
Published in:
Date:
June 2021
DOI:
Type of access:
Requires membership/payment
This article can be accessed via RCVS Knowledge Library Membership (click here).
Reader, R., Olaitan, O. and McCobb, E. (2021) Evaluation of prescribing practices for gabapentin as an analgesic among veterinary professionals. Veterinary Anaesthesia and Analgesia, 48 (5), pp. 775-781.
This online survey study aimed to describe the prescribing practice for gabapentin as an analgesic among veterinary primary practitioners and specialists in multiple practice settings in the US and Canada.
The survey included 20 questions in which respondents were asked about their individual prescribing practices, including the frequency of use of gabapentin and reasons for prescribing, as well as questions on gabapentin itself, which asked about its mechanisms of action, perceptions of efficacy and awareness of its potential for abuse in humans. The survey was distributed via several social media channels to diplomates of four US veterinary speciality colleges, two state veterinary associations and one university alumni association.
A total of 718 surveys were returned, with a full survey completion rate of 528 (73.5%). 97% (516/529) of respondents reported use of gabapentin, with 46.9% (248/529) respondents indicating they had been prescribing gabapentin for more than five years. 69% (365/529) prescribed gabapentin as an analgesic on a daily/weekly basis.
The most common reasons for prescribing gabapentin were because an NSAID was contraindicated in the animal (49.1%, 254/517) or because gabapentin was believed to be an effective analgesic in veterinary species (31%, 165/517). Reasons given for prescribing gabapentin differed between anaesthesiologists compared to surgeons and internists. Anaesthesiologists stated prescribing because the animal should not be treated with an NSAID and veterinary surgeons because they felt gabapentin was an effective analgesic in veterinary species. 44.3% (232/524) of respondents identified the mechanism of action of gabapentin was on voltage-gated calcium channels, with anaesthesiologists correctly identifying the mechanism of action significantly more often than the other groups.
45.5% (254/558) of respondents stated that a prescription monitoring system was in place in their practices. 73.1% (380/520) of respondents prescribed between 2-4 weeks supply of gabapentin at a time, 69.2% (362/523) respondents were able to authorise repeat prescriptions without requiring a re-examination or follow up appointment. Most respondents felt that the potential abuse of gabapentin in humans was low.
Limitations of the study include potential selection bias for respondents, the convenience sample used may not be representative of wider views across the US and Canada, and the different number of responses within the groupings which may have influenced comparisons between groups.
This study focuses on views of veterinarians in the US and Canada, which may be different to those in the UK, but raises interesting points to be considered, providing useful evidence on the current use of gabapentin and highlighting its increasing use as an analgesic, for which there is limited evidence base. The study also highlights the lack of knowledge of both the mode of action of gabapentin and of the growing evidence base of the potential for abuse by human patients and recreational drugs users.
Image copyright attribute: milkos
We encourage discussion on all material highlighted in each edition of inFOCUS. Use the button below to join the conversation on Twitter and include your comment in the feed for this issue.
Twitter feed is not available at the moment.
https://infocus.rcvsknowledge.org/wp-content/uploads/2021/08/Vet-prescribing-medication.jpg
519
923
Myai Du
Myai Du
2021-08-25 07:06:44
2021-09-14 13:56:25
Evaluation of prescribing practices for gabapentin as an analgesic among veterinary professionals