Laboratory safety evaluation of bedinvetmab, a canine anti-nerve growth factor monoclonal antibody, in dogs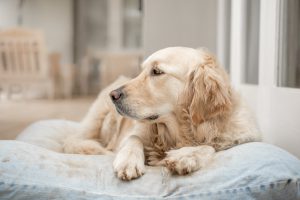 Author(s):
M. Krautmann, R. Walters, P. Cole, J. Tena, L.M. Bergeron, J. Messamore, D. Mwangi, S. Rai, P. Dominowski, K. Saad, Y. Zhu, M. Guillot and L. Chouinard
Published in:
Date:
October 2021
DOI:
Type of access:
Krautmann, M. et al (2021) Laboratory safety evaluation of bedinvetmab, a canine anti-nerve growth factor monoclonal antibody, in dogs. The Veterinary Journal, 276, p.105733
This paper describes the laboratory safety evaluation of bedinvetmab based on three integrated laboratory studies in healthy adult laboratory Beagles.
All three studies were carried out in compliance with Good Laboratory Practice (GLP-compliant) and conducted in accordance with local, state, national, and international animal welfare legislation after ethical review.
In the first part of this study, 32 dogs were randomly selected and assigned to one of four treatments (n = 8; 4 males, 4 females per treatment). There were three bedinvetmab dose groups (1 mg/kg, 3 mg/kg, 10 mg/kg) and a saline (placebo) group. Treatment was administered subcutaneous every 28 days for seven doses.  Study 2 evaluated T-lymphocyte-dependent immune function and study 3 evaluated the safety of short-term (14 day) concurrent administration of a nonsteroidal anti-inflammatory drug (Carprofen) with bedinvetmab.
The study found no treatment-related adverse changes in clinical evaluations, including neurological and ophthalmic examinations, immune morphology or function, and no effects following short-term concurrent NSAID usage.
Some instances of slight injection site swelling, heat or redness were noted, usually at 2 hours post-injection, in a small number of dogs that received the higher dose volumes of bedinvetmab or saline, suggesting this may be a reaction to the injection rather than the active ingredient.
The main limitations of the study were the small number of healthy dogs and the short (14 day) duration of concurrent NSAID treatment.
This study provides further evidence that bedinvetmab was well-tolerated in healthy dogs.  While the paper provides some evidence that short term NSAID supplementation is possible for dogs on bedinvetmab, further research and data from clinical use is required, especially in respect to the concomitant use of NSAIDs.
Although rapidly progressive osteoarthritis (RPOA) has not been reported in dogs, human clinical trials with anti-NGFs have reported that the incidence of RPOA increased with increased doses, and markedly with chronic (≥4 months) co-administration of NSAIDs.
We encourage discussion on all material highlighted in each edition of inFOCUS. Use the button below to join the conversation on Twitter and include your comment in the feed for this issue.
https://infocus.rcvsknowledge.org/wp-content/uploads/2021/09/Golden_retriever_bed.jpg
565
847
Myai Du
Myai Du
2021-09-14 15:57:51
2021-09-14 16:19:02
Laboratory safety evaluation of bedinvetmab, a canine anti-nerve growth factor monoclonal antibody, in dogs