A prospective, randomized, blinded, placebo-controlled multisite clinical study of bedinvetmab , a canine monoclonal antibody targeting nerve growth factor, in dogs with osteoarthritis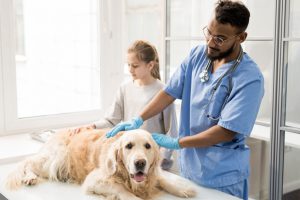 Author(s):
M.J. Corral, H. Moyaert, T. Fernandes, M. Escalada, J.K.S. Tena, R. R. Walters and M.R. Stegemann
Published in:
Date:
August 2021
DOI:
Type of access:
Requires membership/payment
This article can be accessed via RCVS Knowledge Library Membership (click here).
Corral, M.J. et al (2021) A prospective, randomized, blinded, placebo-controlled multisite clinical study of bedinvetmab, a canine monoclonal antibody targeting nerve growth factor, in dogs with osteoarthritis. Veterinary Anaesthesia and Analgesia
The aim of this randomized, double–blind, multicentre study was to evaluate the efficacy and safety of bedinvetmab (Librela; Zoetis), compared to a placebo, for the alleviation of pain associated with osteoarthritis in client-owned dogs (n = 287). The paper was written by staff employed by Zoetis in Belgium and the US and included dogs from 26 veterinary practices in four countries.
The study consisted of two phases. First a three-month comparative placebo-controlled phase, following this, 89 dogs that had responded positively, entered a continuation phase, lasting up to six months. All dogs were assessed by a veterinary surgeon to confirm radiographic evidence of osteoarthritis (OA) in at least one joint of the pelvic or thoracic limbs. They also underwent a veterinarian categorical assessment (VCA), in which each of three components: lameness/weight-bearing, pain on palpation/manipulation of joint(s) and general musculoskeletal condition was graded as 'clinically normal', 'mild', 'moderate', 'severe' or 'nearly incapacitating'. At least one of the three components had to be moderately affected for enrolment in the study.
The dogs were randomized (1:1) to receive subcutaneous injection with placebo (saline, n = 146) or bedinvetmab (0.5–1.0 mg kg−1, n = 141) administered monthly. Dogs were examined at the veterinary clinic on days 0, 7, 14, 28, 42, 56 and 84, where the vet performed a physical examination, completed a VCA, and recorded any adverse health events (AHEs). Blood samples were collected monthly, and urine was collected every three months.
The results are reported under three headings.
The level of pain was assessed the owners by using the Canine Brief Pain Index, which consists of a Pain Severity Score (PSS, 0–10), a Pain Interference Score (PIS, 0–10) and the overall impression of the Quality of Life. Treatment success was defined as ≥1 reduction in Pain Severity Score and ≥2 in Pain Interference Score.
A greater proportion of dogs in the bedinvetmab group (43.5%) achieved CBPI-based treatment success compared to the placebo group (16.9%) at day 28 and all other time points. Treatment success in placebo group was < 25% throughout the study The maximum bedinvetmab treatment effect was observed on day 42.
Veterinary Clinical Assessment
The overall VCA improvement for bedinvetmab-treated dogs was reported as 88.7% (day 28) and 87.9% (day 42) and was maintained thereafter in the continuation phase (range 89.2–94.9%).
The frequency of reported adverse health events was similar in the treatment and control groups, and the most frequently reported were 'musculoskeletal disorders', which included 'joint pain' and 'lameness' which occurred in 22 placebo dogs (15.1%) compared with three bedinvetmab-treated dogs (2.1%). Although there were some differences in the types of adverse events reported overall, they were considered to be incidental findings (often associated with comorbidities) or typical for a population of older dogs with arthritis, and not related to bedinvetmab administration.
Four dogs developed anti-drug antibodies ADAs during the 9-month study, but in only one case did this appear to affect the efficacy of the product.
Limitations of the study include a lack of clarity about how the categorical assessments in the veterinary clinical assessment were converted to percentage improvement, and the lack of a control group for the continuation phase.
This study provides some evidence for the effectiveness and safety of bedinvetmab administered monthly for up to nine months at 0.5–1.0 mg kg−1 for alleviation of pain associated with osteoarthritis in dogs. As such, it will be of interest to veterinary surgeons advising clients on the available therapies for their dogs.  However, further studies on this new product and comparisons with currently available treatments are required.
We encourage discussion on all material highlighted in each edition of inFOCUS. Use the button below to join the conversation on Twitter and include your comment in the feed for this issue.
https://infocus.rcvsknowledge.org/wp-content/uploads/2021/09/vet_golden_retriever.jpg
565
847
Myai Du
Myai Du
2021-09-14 15:57:59
2021-09-14 16:19:12
A prospective, randomized, blinded, placebo-controlled multisite clinical study of bedinvetmab , a canine monoclonal antibody targeting nerve growth factor, in dogs with osteoarthritis