Online survey of owners' experiences of medicating their cats at home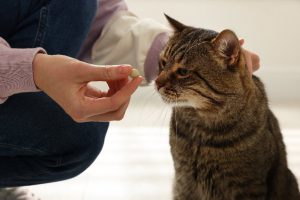 Author(s):
S. Taylor, S. Caney, C. Bessant and D. Gunn-Moore
Published in:
Date:
March 2022
DOI:
Type of access:
Taylor, S. et al. (2022) Online survey of owners' experiences of medicating their cats at home. Journal of Feline Medicine and Surgery.
The aim of this online survey study was to gather data from cat owners on their experience of giving medication to cats, including the information provided by veterinary practices, the challenges of administering medications, the behavioural responses of cats when being medicated, owner preferences for formulation and any barriers to completion of a course of medication.
The survey was open for four months between February and May 2021. It contained 35 questions on several themes, including experience administering different forms of medications, use of online pharmacies, preferences for formulation, support from veterinary practices, behavioural responses, and impact on the owner's relationship with their cat.
Where appropriate, questions differentiated cat owners with veterinary or professional pet experience (termed cat owners+) from those without (cat owners), with the respondents selecting the appropriate category from a drop-down list. For analysis, the data was separated into these two categories for some questions, and for other questions data from both categories was used, termed 'total cat owners'.
A total of 2,507 responses, from 57 countries, were included in the analysis: 1724 from cat owners and 783 cat owners+.
The results showed that 50.7% of cat owners reported they were 'sometimes' or 'never' given information or advice on how to administer medication. Where cat owners were given information, 91.8% found the information useful. 53.6% of owners had sought advice on how to administer medication from the internet, however, only 41.8% of respondents experiencing difficulties with medication contacted their veterinary practice for help. Significantly more of the total cat owners rated tablets as harder to administer than liquids, with 53.0% selecting liquids as their preferred formulation. Additionally, 51.6% of owners reported that medicating their cat had changed their relationship with them. The most frequently reported challenges were the cat spitting out tablets (78.7%), trying to bite or scratch the owner (77.0 %), refusing medication in food (71.7%) and running away (52.7%).
Limitations of the study include potential selection bias, as the respondents were likely motivated to complete the survey due to their experience of medicating their cat. It is also possible that compliance was overestimated by some respondents. Whilst not a limitation of the study itself, it did not investigate transdermal medication or specific types of medications.
This study provides evidence of the challenges that owners face when medicating cats, the changes that occur in the owner's relationship with their animal, and the effect this has on the caregiver. It highlights the importance of providing support to reduce caregiver burden by providing information and demonstrations when prescribing, as well as links to reliable sources of online information.
We encourage discussion on all material highlighted in each edition of inFOCUS. Use the button below to join the conversation on Twitter and include your comment in the feed for this issue.
Twitter feed is not available at the moment.
https://infocus.rcvsknowledge.org/wp-content/uploads/2022/06/Cat-taking-tablet-pill.jpg
565
847
Myai Du
Myai Du
2022-06-28 14:42:00
2022-06-28 14:56:26
Online survey of owners' experiences of medicating their cats at home