Prospective randomised blinded clinical trial assessing effectiveness of three dental plaque control methods in dogs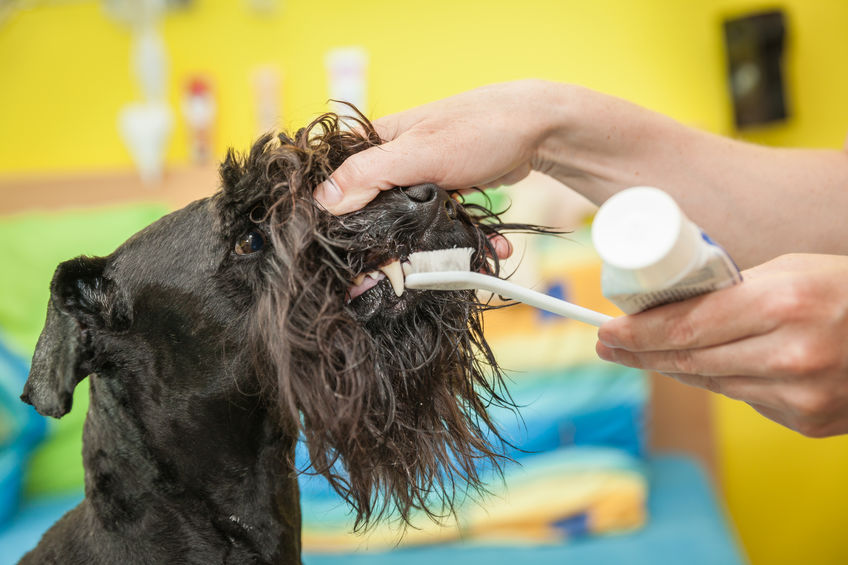 Author(s):
R.M. Allan, V.J. Adams and N.W. Johnston
Published in:
Date:
December 2018
DOI:
Type of access:
Requires membership/payment
This article can be accessed via RCVS Knowledge Library Membership (click here).
Allan, R.M., Adams, V.J. and Johnston, N.W. (2018) Prospective randomised blinded clinical trial assessing effectiveness of three dental plaque control methods in dogs. Journal of Small Animal Practice (early view)
The aim of this randomised, blinded clinical trial was to investigate the effectiveness of three commonly used stand-alone methods of controlling dental plaque accumulation using a 'clean mouth' model. The study was carried out in general practice and funded by the BBC television programme 'Trust me, I'm a Vet', which looked at answers to some common pet health questions.
Dogs were recruited in to the study after discharge following a routine scale and polish. A screening questionnaire was used as part of the enrolment process for owners and dogs who met the inclusion criteria. Dogs were randomly assigned to one of three treatment groups: once daily tooth brushing using a toothbrush and veterinary toothpaste (group 1), once daily administration of a single dental hygiene chew (group 2), or a prescription dental diet (group 3). Blinded scoring of plaque accumulation (coverage and thickness) was performed at the end of the 6-week study period. During the course of the study, 11 dogs dropped out or were excluded, leaving a total of 22 dogs included in the data analysis: eight in group 1, six in group 2 and eight in group 3.
Results show daily tooth brushing was the most effective method of controlling plaque, with dogs in that group having a significantly lower tooth score compared to both the dental chew and diet groups. The mouth scores for the diet and dental chew groups were not significantly different from each other and there was a greater variability in mouth scores within these groups compared to tooth brushing.
Limitations of the study included the possibility of variability in the results due to differences in owner compliance, body weight and mouth size. There was also a likelihood that the enrolment procedures would have resulted in a highly motivated population of owners that were not representative of the norm – this would have been further exacerbated by encouragement from the production company.
This study adds to the evidence that daily tooth brushing is the most effective single method for reducing dental plaque and optimising dogs' oral health. As the population of owners were highly motivated it would be good to see the study repeated under more normal conditions with variable owner compliance for a more sustained period, and look at alternative options for owners whose dogs will not allow tooth brushing to be undertaken.
We encourage discussion on all material highlighted in each edition of inFOCUS. Use the button below to join the conversation on Twitter and include your comment in the feed for this issue.
Twitter feed is not available at the moment.
https://infocus.rcvsknowledge.org/wp-content/uploads/2019/02/dog-teeth-brushing.jpg
565
848
Myai Du
Myai Du
2019-02-26 13:51:57
2019-02-27 13:57:53
Prospective randomised blinded clinical trial assessing effectiveness of three dental plaque control methods in dogs