Applying clinical audit for quality improvement in canine dystocia cases seen at a UK primary-care emergency practice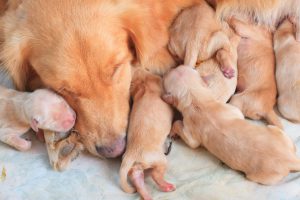 Author(s):
Leicester, L, Reid, A, Gilbert, S, Marshall, R, O'Neill, DG.
Published in:
Date:
January 2023
DOI:
Type of access:
Leicester, L., Reid, A., Gilbert, S., Marshall, R. and O'Neill, D.G. (2023) Applying clinical audit for quality improvement in canine dystocia cases seen at a UK primary-care emergency practice. Veterinary Record, e2485
The aim of this study was to report the opportunities and challenges associated with designing and implementing a clinical audit as part of a quality Improvement (QI) project in primary care emergency practice. The specific objectives of the particular QI project were to design and implement a continuous QI process for the clinical management of canine dystocia cases.
The clinical audit was carried out in three phases at a UK out-of-hours emergency provider. The first phase involved identifying all canine dystocia cases from the patient records within the population of female entire dogs seen between September 2012-February 2014. Data on nine key clinical outcomes was extracted. A checklist of specific safety-critical actions for the clinical management of canine dystocia cases was introduced and updated information on canine dystocia and fetal monitoring was shared with employees.
For the second phase which took place in 2019, 21 clinical auditors were recruited to develop an evidence-based standard operating procedure for further data collection and monitoring of dystocia cases. The patient records for canine dystocia cases seen between June 2018 and May 2019 were then analysed and data extracted on 21 clinical questions. A consensus-driven standard for the recording of fetal heart rates was sought and a long-term target of achieving this in 75% of dystocia cases was set. Further knowledge dissemination took place including updated guidelines, additional information resources and an interactive online education event. Data on the number of learners who accessed each resource was gathered in the six months following these activities.
For the final phase data was extracted for dystocia cases seen between June and August 2021, giving an interval of four weeks between the phase 2 knowledge dissemination and the phase 3 sampling. Infographics showing the results of the impact of the audit were shared and the working party became a permanent group.
Results of the audit showed that over the full audit cycle there were significant increases in the recording of bodyweight, recorded use of diagnostic imaging, recorded use of ultrasonography, recorded measurement of fetal heart rates and recorded use of oxytocin and calcium gluconate. During the same period there were significant decreases in the median first quantity (iu/dog) and median first dose of oxytocin (iu/kg).
Limitations of the study include the varying levels of detail and inconsistency of recording on the electronic patient records which made information in some areas e.g. neonatal mortality difficult to interpret.
This study shows that it is feasible for a large scale clinical audit to be carried out in veterinary practice and that the clinical audit process can lead to improved clinical outcomes and provide learning opportunities for the veterinary team. Full details of this Clinical Audit are available as supporting  information online, this information should be read alongside the published paper.
The following may also be of interest:
Claiming CPD for reading inFOCUS articles
Reading and reflecting on articles can count towards your CPD, and we have a template to help you with the process.
We encourage discussion on all material highlighted in each edition of inFOCUS. Use the button below to join the conversation on Twitter and include your comment in the feed for this issue.
Twitter feed is not available at the moment.
https://infocus.rcvsknowledge.org/wp-content/uploads/2023/04/puppies.jpg
1672
2508
Myai Du
Myai Du
2023-04-23 13:55:53
2023-04-24 16:10:07
Applying clinical audit for quality improvement in canine dystocia cases seen at a UK primary-care emergency practice