ISFM consensus guidelines on the diagnosis and management of hypertension in cat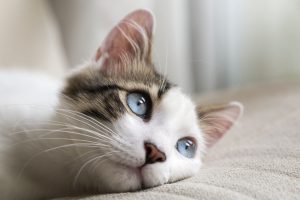 Author(s):
S.S. Taylor, A.H. Sparkes, K. Briscoe, J. Carter, S.C. Sala, R.E. Jepson, B.S. Reynolds and B.A. Scansen
Published in:
Date:
March 2017
DOI:
Type of access:
Taylor, S.S. et al. (2017) ISFM consensus guidelines on the diagnosis and management of hypertension in cats.  Journal of Feline Medicine and Surgery, 19 (3) pp. 288-303
Systemic arterial hypertension is a well recognised condition in older cats which can have severe clinical consequences due to target organ damage principally affecting the eyes, heart, brain and kidneys.  Despite being a common disease in older cats routine blood pressure (BP) monitoring is performed infrequently which leads to failure to identify and monitor patients most at risk of developing hypertension.  Establishing a reproducible technique to measure BP as accurately as possible as well as criteria for therapeutic intervention and appropriate therapeutic targets would be beneficial in clinical practice.
These guidelines from the International Society of Feline Medicine (ISFM) which are based on a comprehensive review of the available literature, and the consensus opinion of the Panel,  provide practitioners with up-to-date information on the causes, clinical signs, diagnosis and management of feline hypertension and provide the practical recommendations on:
Frequency of systolic blood pressure (SBP) monitoring
Equipment and procedures
Protocols for assessing SBP
Criteria for justifying antihypertensive therapy
Other investigations that should be carried out in hypertensive cats
Routine therapy and monitoring
Treatment in the case of hypertensive emergencies
These evidence-based and consensus opinion guidelines provide practitioners with recommendations on diagnosing and managing feline hypertension and provide a good basis on which to produce practice-based guidelines in this area.
https://infocus.rcvsknowledge.org/wp-content/uploads/2017/06/2_38175018_ml.jpg
1119
1678
Myai Du
Myai Du
2017-06-16 09:58:13
2019-08-15 08:23:34
ISFM consensus guidelines on the diagnosis and management of hypertension in cats